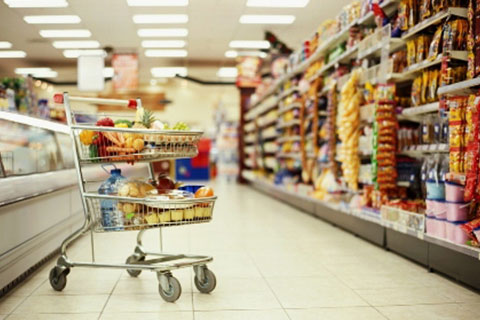 With the GST Council having finalised a 4-tier tax structure, analysts are betting FMCG stocks will do well. As Sensex slid by half a percentage point on Friday, the S&P BSE Fast Moving Consumer Goods shone bright like a lone-star. The index was up over 1% as most of the sectors like basic materials, energy, finance, telecom, industrials, auto, oil & gas, power and realty declined.
Leading the charge for FMCG was the likes of ITC, Colgate-Palmolive, VST Industries, Dabur, EID Parry and Hindustan Unilever. Many experts point out that a majority of personal care and household items including toothpaste, detergents, dishwash, hair oil, shampoo, soaps, etc. to fall in the slab of 18%, thus providing a big boost to related FMCG companies. "Basic staples such as soaps, detergents, hair oil, oral care, shaving cream, etc. may witness a tax benefit of ~900bps from currently 27% to much lower rate of 18%," said Dhananjay Sinha, Head, Institutional Research, Emkay Global Financial Services.
"Autos (small cars & 2-wheelers), consumer goods (white goods), cement and paint stocks may be negatively impacted, as expected gains under GST will not be significant. Textile sector may attract higher tax than current structure. Certain FMCG stocks (those producing soaps, detergents, oil and other mass consumption items) will be positively impacted due to lower 18% tax rate. We reiterate GST will lead to economic unification of India 60 years after political unification, and bring huge efficiency gains over next decade," said Edelweiss analysts Manoj Bahety and Nilesh Aiya.
The five-rate tax structure of the most awaited economic reform in India, Goods and Services Tax (GST), was unveiled on November 3, 2016. The government has come out with a five rate tax structure of 0%, 5%, 12%, 18% and 28%. While 50% of CPI items are exempted from GST, the lowest rate of 5% would broadly comprise mass consumption items, including edible oil (some analysts believe this would be marginally positive for Marico's edible oil portfolio).
The government has proposed to keep two standard rates - 12% & 18%, which would include majority of the commonly used items like personal care and household items.
ICICI Securities analysts Sanjay Manyal said: "We believe this would be positive for a majority of FMCG companies under our coverage. Further, tobacco products would be attracting the highest slab of 28% in addition to cess against the anticipated 40% demerit tax. Thought clarity on cess is awaited, prima facie, it looks positive for cigarette companies (ITC and VST Industries)..."
While details pertaining to key segments and their respective tax rates are still awaited, its clear going by first impression of the proposed GST rates is positive.
"We further believe that with the implementation of GST, the efficiency in the system will also improve in terms of logistics and warehousing. Additionally, the premiumisation trend across personal care & household items and expected increase in penetration supported by efficiency in the supply chain led by GST would drive the sector. We reiterate our positive stance on HUL, Colgate, Dabur, Jyothy Labs, ITC and VST Industries in the backdrop of this development in GST rates," Manyal added.