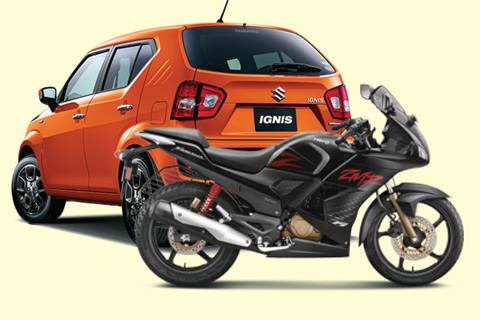 The combination of a good monsoon, higher salaries and new launches improves buying sentiments and propels sales of automobiles. The latest auto numbers for August 2016 exhibited this trend. Passenger vehicles saw growth in despatches at 16.7 per cent (over August 2015) while two-wheelers clocked in a higher growth of 26 per cent. Market leader Maruti that had seen growth slacken in the last couple of months saw volumes rebound.
Here are two auto manufacturers that stand to gain with the good monsoons this year.
Maruti Suzuki
India's largest passenger vehicle manufacturer sees around 30 per cent of its sales coming in from the hinterlands. A good monsoon is generally expected to boost car sales – especially the lower-priced models – a vertical that Maruti Suzuki has a straddling presence in. Auto penetration in the country is still among the lowest in the world, Maruti is best placed to address this opportunity among all passenger vehicle manufacturers. It is present in over 800 rural outlets – more than double of its closest competitor. It is the first-time buyer that Maruti attracts attention of and a category that the company dominates. Around 47 per cent of its customers are first-time buyers.
At the opposite end of the spectrum, the company's premiumisation strategy has turned a winner. Waiting period of eight to nine months for Brezza and around six months for Baleno highlight the demand for the company's top-end products. Analysts at Kotak Securities estimate that in the next couple of years, the profitability on these two models is likely to match or even exceed (in the case of Brezza) those of Maruti's most profitable model – the Swift, that commands an Ebit margin of 17-20 per cent. The Maruti stock trades at 36.41 times earnings and is up 34.25 per cent in the last one year.
Hero MotoCorp
A good monsoon boosts sales of two-wheelers. The spurt in two-wheeler sales growth even this year is a testament to this pattern. The scooter segment is the place where action is happening with the vertical outpacing growth in the motorcycle segment. Two key players are winning in this segment – Honda and Hero MotoCorp. In August 2016, Hero reported volume growth of 28 per cent – it's highest in 22 months. Sales for August were high too – at 24 per cent (y-o-y). Hero MotoCorp stands to gain big when monsoons are good. It derives an estimated 50 per cent of its sales from rural areas. It's astounding growth in the scooter segment was bolstered by the launch of Duet. The company is looking at a slew of new products this financial – three of which are expected to be launched before the festive season.
Hero runs a high-quality business that has averaged a high return on net worth of 47 per cent in the last five years. Operating margins averaged at 16 per cent in the last five years while earnings per share compounded by 11 per cent annually during this time. The Hero stock is up 30.74 per cent in the last one year and trades at 21 times earnings.