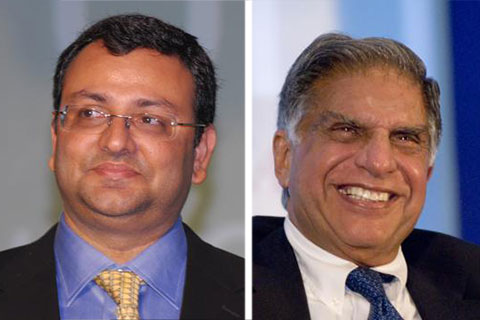 The first session of trading for Tata Group stocks didn't seem to celebrate the fact that Ratan Tata is back at the helm, at least temporarily. Stock markets seemed worried that the sudden exit of Cyrus Mistry is a harbinger of some hidden bad news. The Tata Group, renowned for its business ethics, has been popular with investors big and small. According to Value Research data, mutual funds had investments worth over Rs 23,900 crore in 11 Tata group securities.
Tata Group stocks were down. The most valued Tata Group company TCS shed over 1% on Tuesday. Both Tata Power and Tata Elxsi inched 1.5% lower. Tata Steel, Tata Coffee, Tata Global Beverages and Tata Communications were individually down between 2-2.5% as on 3 PM. Tata Motors was down too. Tata Chemicals shed over 3%. In one word, there was pandemonium across Dalal Street.
Jaguar Land Rover-owner Tata Motors is the biggest bet of mutual funds in the Tata Group. At the end of September 2016, funds had Rs 6,049.58 crore or close to a billion dollars in this automobile maker. Tata Motors happens to be one of the most popular holdings in the entire fund industry, with as many as 316 schemes investing in it.
Tata Consultancy Services or TCS is the second biggest holding, with 241 schemes investing Rs 4,779.81 crore in this huge tech services company, which competes with the likes of Infosys.
Tata Motors DVR is also very popular with mutual funds. Tata Motors became the first company to issue DVRs in India such as when it needed to fund the JLR acquisition in 2008. While it has much lower voting rights than an ordinary share, a DVR is entitled to 5% more dividend than ordinary shares. The funds' bet on Tata Motors DVR is about Rs 4,346.14 crore.
Other Tata Group stocks that have some MF money riding on them include Tata Steel (Rs 3,425.57 crore), Tata Chemicals (Rs 1,968.07 crore) and air-conditioning major Voltas (Rs 1,955.98 crore). Individual funds with a big exposure to Tata Steel include Invesco India AGILE Tax Fund with 8.8% assets in Tata Steel. Both Templeton India Growth Fund and ICICI Prudential Indo Asia Equity Fund have more than 10% of net assets each in Tata Chemicals.
To find out which fund owns a Tata Group stock, use our Who Owns What? tool to get details such as net assets, amount invested and number of shares held from all the funds that own a specific stock.
Notwithstanding the short-term volatility in Tata group stocks, some experts see the initial wobble settling down soon.
Ajay Bodke, CEO & Chief Portfolio Manager: PMS, Prabhudas Lilladher, says: "What would provide reassurance to the market is the fact that Mr. Ratan Tata is back in saddle as the interim Chairman as also the tight deadline of four months given to the Selection Committee by the Board of Tata Sons. Also, the Selection Committee comprises of venerable corporate leaders. After the initial wobble the group's shares should stabilize in my view."
"As the individual companies enjoy wide autonomy and are being managed by professionals, any changes at the level of holding company would have minimal impact on their day to day operations. Long term capex plans though may get reassessed to ensure that they are in consonance with the new leadership's vision for growth for the Group," he added.
Major listed Tata stocks
Stock
MF investment Rs Cr (Sept-end)
Tata Motors
6049.58
TCS
4779.81
Tata Motors DVR
4346.14
Tata Steel
3425.57
Tata Chemicals
1968.07
Voltas
1955.98
Tata Communications
810.29
Tata Global Beverages
340.6
Tata Coffee
98.58
Tata Elsxi
80.5
Tata Investment Corp
47.93
Source: Value Research Online