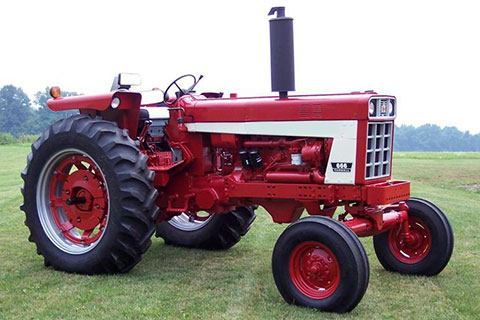 Indian farms have traditionally been low-yielding; the small size of farms and scarcity of water for irrigation have often prohibit investments in mechanisation. But a more recent trend may accelerate the move towards it. What's hitting the Indian farming sector is shortage of skilled labourers who have left villages to migrate to cities. Scarcity of labour is now beginning to grow at alarming levels across the country.
Tractors take the lead in farm mechanisation. Poor monsoons in the last two years saw tractor sales nosedive. This year is a different story. Sales were up eight per cent, driven by improved crop production and higher food grain prices. The graphic below highlights how tractor sales have moved compared to the monsoons. On a long-term basis, tractor sales have moved with the quantum of rainfall.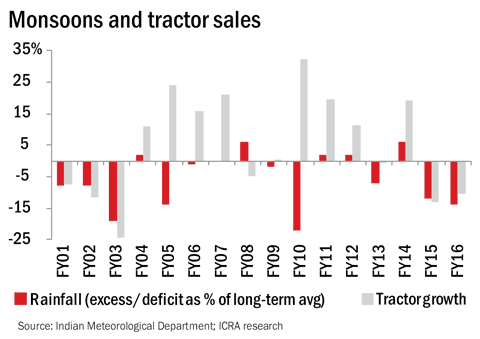 Here are two names in the farm-equipment sector that stand to gain from good monsoons this year.
Swaraj Engines
Swaraj Engines
, majority-held by M&M, has the distinction of being profitable every year since commencement of production in 1988. Swaraj's revenues are generated by manufacturing tractor engines for M&M' s Swaraj tractor division and it alone provides 85 per cent of M&M's Swaraj Engines.
Good monsoons this year have translated to domestic tractor sales growth of 14.7 per cent in Q1FY17 with higher volumes of 1.6 lakh units compared to 1.4 lakh tractors sold in the same quarter of last year. Swaraj tractors, a leading tractor brand is likely to be a key beneficiary of the uptick in tractor sales. The government's push towards higher crop yields and greater mechanisation especially in the low tractor density regions of south and west India should help keep tractor sale momentum up in the coming quarters.
Swaraj's return on net worth has averaged at 28.44 per cent in the last five years. That's a remarkable feat, especially given the rough patch the tractor industry has undergone in the last two years. To boot, it also had a net cash of
Rs
185 crore as of FY16. The stock is up 45.59 per cent this year and trades at 28.78 times earnings.
VST Tillers Tractors
VST Tillers Tractors
(VST) is the market leader in the tillers market in the country with a market share of an estimated 50 per cent.
Tillers differ from the heavier tractors in two ways: first, tillers are typically low horsepower machines that range between 10-15 horsepower (HP), and second, as opposed to driving a tractor, an operator walks behind the two-wheeled power tiller, giving it the term - walking tractor.
The latest quarter (Q1) saw power tiller sales up by 8.1 per cent. Higher sowing activity is good news for VST as more sowing area opens up more potential demand. Sowing activity was 80 million hectares (as on July 27, 2016) compared to 75 million hectares as of the same period of the previous year.
VST has other strengths too. Its debt-free, doesn't have to invest in any capex, its return on net worth has averaged at 23.66 per cent in the last five years. The VST stock is up 38.69 per cent in the last one year and trades at 22.8 times earnings.