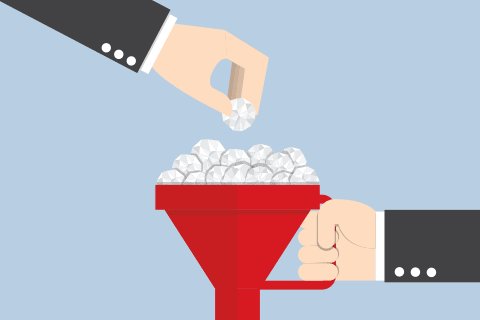 Have you ever wondered where exactly mutual fund managers invest to give you returns? Fund favourites keep changing but an analysis of Value Research data shows that top private sector banks, financial institutions, IT service companies, pharmaceutical firms and automobile companies are presently among the most-owned shares in MF portfolios. If you have stock exposure to the likes of HDFC Bank, ICICI Bank, Infosys, SBI, L&T, RIL and Maruti Suzuki, congratulations. Your portfolio mimics those of most equity fund managers.
Popular choices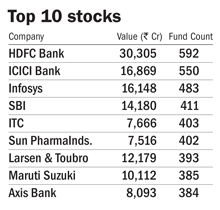 Banking is a top weight in the bellwether indices and funds like to own this sector. But with public sector banks weighed down, HDFC Bank has emerged the most popular stock in MF portfolios with as much as Rs 30,304 crore invested across 592 schemes. To put this in context, the total investment in HDFC Bank was more than Sundaram Mutual's total assets. Following HDFC Bank is ICICI Bank (550 schemes).
The software industry has been facing headwinds lately with worries about whether a shaky BFSI segment and trends such as automation will dent prospects. But at the end of September 2016, Infosys was still the 3rd most popular stock (483 schemes - Rs 16,148 crore by value). SBI takes the 4th spot with a presence in 411 schemes. FMCG stocks in general are labelled pricey but not cigarettes-to-hotels company ITC which is held by 403 schemes. Sun Pharmaceuticals, which happens to be India's most valued drug maker as well, is perched at the 6th most popular position across MF portfolios with presence in as many as 402 schemes (Rs 7516 crore in value terms).
Super 100
The 100 most-owned stocks by MFs amount to Rs 3.57 lakh crore in value (at the end of September 2016). That means these 100 stocks alone account for 66 per cent of equity MF category's AUM of Rs 5.37 lakh crore. Put simply, these 100 popular stocks are 2/3rd of total equity fund assets!
Infrastructure builder Larsen & Toubro (393 schemes), Maruti Suzuki India (385 schemes), Axis Bank (384 schemes), and Jio creator Reliance Industries (346 schemes) are in this list, among most-owned stocks, the data shows.
In the top 100 most owned, the bottom-rung includes Crompton Greaves, Amara Raja Batteries, TVS Motor, Tube Investments, Sundaram Finance, SKF India and Balkrishna Industries. As you can see, most of these stocks are ancillary linked in nature and some of them have a South Indian flavour.
Movers and shakers
Stocks like Mahindra & Mahindra (14th today from 19th in Sep 2015), Grasim Industries (199 schemes and 28th rank now, from 164 schemes and 39th in 2015), Power Grid (22nd rank and 236 schemes at present, from 182 schemes and 35th rank in 2015) have risen in popularity across MF portfolios. The expected boom in consumption linked to the monsoon and a general preference for NBFCs have helped their rise.
There are many fallen angels too, which have dropped in popularity in the last one year. The stocks which have come down the pecking order include TCS (10th a year ago and now 20th), Bharti Airtel (24th a year ago with presence in 233 schemes, is now 31st with 189 schemes), Federal Bank (29th to now 40th) and Wipro (28th rank to 47th). While IT is besieged by global issues, new competition from Jio, high spectrum payouts and price competition are a worry for telecom.