Kumar Shankar Roy speaks to Jinesh Gopani who has been managing the highly successful ELSS fund.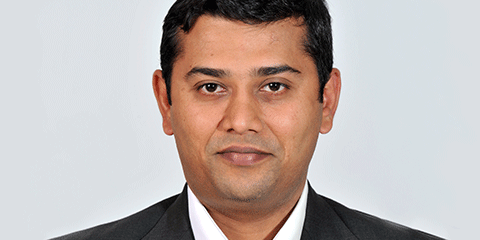 What are the reasons behind the fund's consistent performance?
The fund's investment philosophy is centred on four pillars viz., fundamental research, quality management teams, superior business models & strong risk management practices. Within the fast growing industries, it targets companies that are leaders or can be probable leaders in their space and has strong management team to run businesses across cycles. Ideally, the fund looks for companies that have strong pricing power, sustainable competitive advantages, innovative products or services and ability to generate steady cash flows over a longer period of time.
The fund looks for opportunities across market capitalization while maintaining a balance between large, mid and small-cap allocations within the portfolio. We have been consistent with this approach since the launch of the fund. We believe that the significant out-performance of the fund over its benchmark and other players in the market has been possible through a benchmark agnostic approach selecting companies with a long term bottom up fundamental approach to investing.
Has the fund's philosophy and your investment strategy changed over the past decade? If so, how and why?
The Axis Long Term Equity Fund's investment philosophy is designed to find suitable investment opportunities while adopting effective risk management strategies. Key components of the investment philosophy are as follows:
1. Long term Focus - research stocks on the basis of their potential across market cycles (over 3-5 years)
2. Active Management - exploit opportunities such that the portfolio reflects the best investment possible at all times
3. Quality Assets - rigorous search for quality companies with long-term sustainable growth and management track-record
4. Fundamentals Based - utilizes a 'bottom up' approach to identify fundamentally sound companies, while being agnostic of the benchmark constituents
5. Research Driven - decisions are driven by extensive management and company research
6. High conviction investing - a compact portfolio of stocks that reflect the fund manager's best ideas
7. Integrated Risk Management - risk management embedded within the investment process
The fund endeavours to buy and hold high growth secular businesses run by dynamic management with utmost integrity. We have been consistent with this philosophy since day one.
How big a role have tactical allocation, investment strategy and your thinking individually played a role in the fund's returns?
At Axis, we view ourselves as the 'owners' of the business. This is reflected not only in the way we evaluate a business, but also our time frame for investment. As a house, we are long term in focus. The approach not just as an investor but as an 'owner' is a key differentiating feature and reason for our success. Another differentiating feature of our approach is how we approach risk. Risk is considered at each stage of the process, not just as one element of the process. This integrity within the team, research based investment approach and integrated risk management strategy has helped Axis long term equity fund to swim with the markets current.
How do you select businesses for investment?
Axis Long Term Equity fund uses the 3-year lock-in window of the ELSS to provide a unique approach to equity investing. The lock-in creates a situation where both investor and the fund manager interests are aligned in looking at long term opportunities and ignoring short term noise. The fund looks at companies that can sustainably grow profits and generate wealth over 3-4 years. This allows the fund manager to overlook short term volatility of the stock price as well as any temporary hiccups in the company's earnings. Qualitative factors such as the macro-economic environment, industry specific trends, regulations etc. are kept in mind while evaluating a company. We focus on bottom up stock selection, picking stocks which have sound business models, pricing power, quality management and have consistently created long term wealth for shareholders. This has allowed the fund to create tremendous value for investors since its inception.
What are the no-go stocks or sectors for your fund?
Axis Long Term Equity Fund's long-term focus results in a portfolio that can add value across economic cycles. The fund focuses on sustainable quality companies and looks to avoid buying companies that have excessive business uncertainty on account of cyclical/ regulatory/ political risks.
The number of stocks you held in the portfolio has come down in the past 4 years. More than half of the holdings are in ten stocks. What is the reason for the concentration?
Since last 5 years, the number of stocks in the portfolio has been in the range of 35-45. We believe that this is a good range to have optimized concentration and fair diversification at the same time. The fund chooses quality companies and holds them for long term. We believe in holding stocks till it has value. Therefore, the fund does not churn the portfolio frequently. 73% of the current portfolio (30th June 2016) is formed by those 22 (out of 36) stocks in the scheme that we have been holding for at least 3 years.
What themes are you betting on in the next three to five years?
With a medium to long term view towards capturing growth, the fund is biased towards the stocks which can deliver superior returns. This includes private sector banks, autos, auto ancillary, housing, consumption sector etc. The fund also includes bottom-up stock selection ideas in Pharma, IT and defence sectors. Normally, the fund has avoided highly cyclical stories and highly regulated sectors. The fund looks at opportunities across the market cap and the portfolio remains balanced between its large and mid-cap allocations.
The fund has become the largest in its category with corpus over Rs 9,000 crore. Is it becoming too big for your comfort?
We constantly review capacity for each of our funds, and the actual capacity number will evolve over time with growth in the market. Amongst the variables that are considered for evaluating capacity include: liquidity of stocks, holdings in individual stocks, and the objectives of the investment strategy. Based on analysis of the above variables, the Axis Long Term Equity Fund is not currently capacity constrained.
Tell us about some hits and misses of the funds.
Our stock selection strategy is completely research based and it is armored with proper checks and balances to ensure if it is fit in our portfolio construct. Although there have been a few cases where certain stocks have not met our expectations and we have been lucky enough to exit them at the right time.