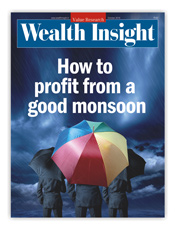 The cover story of the October 2016 issue of Wealth Insight is about something that has been impacting India's economy (and indeed its culture and civilisation) for thousands of years. Even today, despite an extensively industrialised economy, the annual rains have an outsized impact on businesses. While the effect on the equity markets is less than it used to be, there are more than enough sectors and companies whose fortunes depend on the annual rain. In the cover story of this issue, read about sectors and stocks which you can use to profit from a good monsoon.
And there's a lot more to the issue. Here are the highlights of everything else that will help you make better investment decisions and generate better returns:
Company Tale: Engineering heavyweight Larsen & Toubro faces a leadership crisis with the departure of longtime boss AM Naik. Our analysis of how the company will face the challenge
Interview: Harsh Mariwala, Marico's chairman, explains how the home-grown FMCG wizard is adapting itself for the future
First Page: Dhirendra Kumar explains how, thanks to the SEBI's initiatives, the IPO market has become more transparent
Market Compass: Nifty Metal Index, the evolution of market-cap toppers, an all-time high in promoters' pledged stock, and the accelerating auto sector
Analysts Diary: The perils of high PE stocks, Nifty's world beating ways, and digging deeper into the NPA mess, and why dividends are important for the long term investor
Companies with moats: Our regular updated analysis of of Indian businesses with competitive advantages and high barriers to entry
Straight Talk: Anand Tandon analyses how Jio will be bad for telecom investors
Main Street: Saurabh Mukherjea counts out the many second-order benefits of the Goods and Services Tax (GST)
Off Beat: Sanjeev Pandiya writes about the dangers of a high public debt ratio
The Chartist: Devangshu Datta sees a strong buying opportunity in the IT slump
Generally Speaking: Vivek Kaul foresees a welcome change in how critical economic developement will be for winning elections
Stock Ideas: Read our refresh of these investment ideas that you can use now:

Quality stocks available cheap
Attractive blue chips
High dividend-yield stocks
Discount to book value
Reasonably priced growth stocks

Stock Analyst's Choice: Our regular scorecard of the stocks we've recommended since 2011 and their performance.
Click here to subscribe to the printed version, or buy a digital subscription (PDF+online reader) instantly. You can also buy a digital copy of this issue without subscribing.