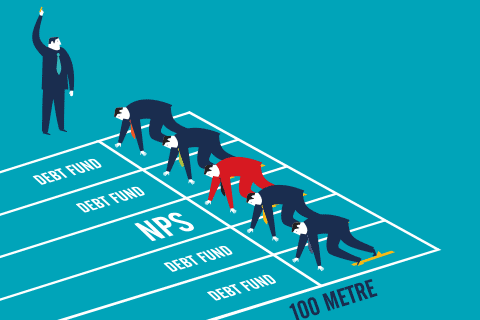 Pensions are for the long term. This principle is beyond question. However the NPS, in its Tier II form can prove to be a great alternative for your short term money. We've compared the NPS with debt mutual funds - the standard choice for short term investments in terms of returns, taxes, costs and convenience. In case of returns and costs, the NPS emerges as a clear winner. It ties with debt funds on taxes and falls behind on the convenience test. Read on to view its performance along each parameter.
A brief overview of the NPS
The NPS was introduced in 2004 for government employees as a replacement for their traditional salary linked pensions. It is a 'defined contribution' scheme that derives its returns by investing in equity and debt, just like any mutual fund. It was thrown open to all citizens, government employees or otherwise, in 2009. It consists of two accounts - a 'Tier I' account that has an effective 'lock-in' till you reach the age of 60 and a 'Tier II' account which has no lock-in. You have the freedom to allocate your money between three asset classes - equity, corporate bonds and government bonds in proportions of your choosing but your equity allocation cannot exceed 50%.
Costs: NPS Wins
When you invest in a regular plan of a debt mutual fund, you will be charged an average 1% expense ratio per year. When you invest in a direct plan, you will be charged 0.6%. Use the NPS and this falls to 0.01% (one hundredth of a regular MF) and you've just saved a pile.
Let us not be disingenuous. The cost of investing in NPS is very different from that of a mutual fund.
However, even after adding up all the charges it contains, it beats mutual funds hands down in terms of cost. And this matters immensely. A 1% charge on a typical 10% debt fund annual return is actually a tenth of your income from the fund. Do the lower costs mean that performance suffers? The answer, hearteningly enough, is no. The NPS Government Bond and Corporate Bond Schemes have beaten their MF counterparts hands down over the past five years and this includes direct plans since they became available three years ago.
Check the box 'NPS Charges'. All the constituents listed add up to an initial charge of roughly 0.25% and an annual charge of 0.02% much lower than the 1% charged by regular plans of debt mutual funds per annum - the difference is magnified when the Tier II account is held for the periods longer than 1 year.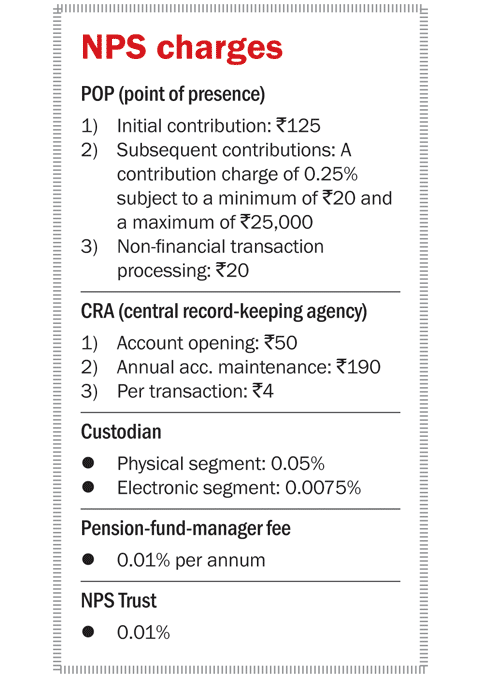 Taxes: And we have a tie
Tier I accounts qualify for a tax deduction up to Rs 50,000. In addition, you can also claim a deduction under Section 80C for up to 10% of your gross salary (maximum Rs 1.5 lakh) if you are employed. Tier II accounts carry no tax benefits and their gains are fully taxable at your tax slab when you withdraw money from the account. However this is also true of debt funds held for less than three years - putting them on par with the NPS. However switching between asset classes (equity, corporate bonds and government bonds) within the account does not incur taxes.
Returns: Advantage, NPS
As the table below shows, the NPS beats debt funds handsomely. Apart from lower annual expenses - the fact that only individuals (and not institutions) can invest in the NPS, potentially augments returns, because this reduces the fund's need to hold cash for large redemptions. Here's a glance at the returns given by the two contenders: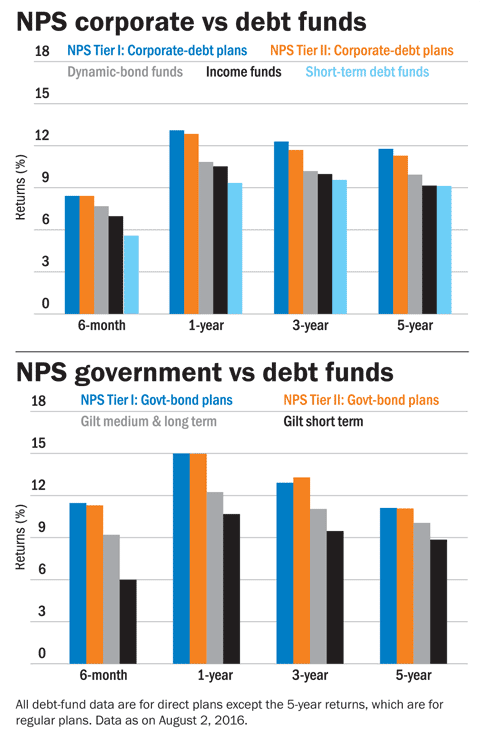 Convenience: NPS loses
The NPS requires you to open a Tier I account (which has a lock-in) before you can open a Tier II one. This will set you back by a minimum of 6000 (tax deductible) rupees. Your allocation between asset classes in the NPS can only be changed once a year. On the other hand, there is no limit on switches between mutual funds though this is costly and incurs taxes. You also have to be between 18 and 60 years of age and a citizen of India - change of citizenship would force you to close the account. Closing the Tier I account will also automatically close the Tier II account. Finally, the actual process of investing in the NPS Tier II and withdrawing from it is fairly slow and cumbersome. In short, if you are looking for convenience and quick investing - the NPS is not your answer
The NPS is a great option for your short term investments of less than a 3 year duration. However, as explained above setting up the Tier II requires some work. Once this is done, the subsequent process is smooth - you can contribute online to your Tier II account. Bear in mind though that if your bank is not registered with the NPS portal, this can be a major cost addition. As more and more people join the system, these glitches are likely to go. If it isn't right for you now, wait and watch.