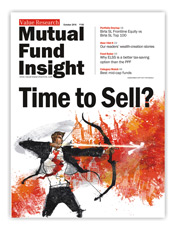 The fear of a market crash is as much a part of a booming markets as high returns. As equity prices rise, so do apprehensions that stock values are getting overheated and a crash may be around the corner. Are we in such a situation yet? To find out, read the cover story of the October 2016 issue of Mutual Fund Insight, 'Time to Sell?'.
Of course, that's not all there is in this issue. Here are some of the other features that will help you make better mutual fund investments:
First Page: Dhirendra Kumar points out that the month of August saw an inflow of

Rs

27,276 crore of long-term money into mutual funds, the highest ever. What are the implications?
Category Watch: Mid-cap funds have had a great run over the last three years. Is it time for caution?
Fund Analyst Choice: Eight mid-cap funds that are worthy of investment, chosen for you by our analysts
Top-Rated Funds: Funds that are rated five star by us
The Plan: 30 years old Mukesh wants to buy a house as soon as possible. What kind of an investent strategy can help him? Our analysts plan how he will achieve his goals
Ask Value Research: Our team answers savings and investment queries from readers
Fund Radar: Our news and notes about happenings in the world of mutual funds:

For saving on taxes, PPF may be popular, but it's returns are much lower than those of ELSS funds
What do fund mergers mean for investors

Fund Reporter: Our digest of the month's most useful mutual fund news
Inside Funds: Learn about sectors and companies from trends in mutual funds' portfolios
Interview: Jinesh Gopani is the Fund Manager of Axis Long Term Equity Fund, a star among ELSS funds. Read our exclusive interview on how his fund has achieved success
How I did it: In the next episode in our unique series of profiles of real investors, read the fascinating story of MC Sudarsan
Portfolio Moves: An analysis of Tata Equity PE Fund
Quick Chat: Sonam Udasi, Fund Manager of Tata Equity PE Fund describes how he selects value stocks for his fund
Direct Advice: Aarati Krishnan describes a better route to index investing than conventional passive funds
And the Point Is...: Vivek Kaul makes a point about a Bollywood character to tell us something about ourselves
Value Research Online: The My Watchlist tool helps you keep a tab on the stocks and funds you are interested in
Scoreboard: India's most comprehensive mutual fund scorecard. Key performance numbers and investment details for each fund
The issue is now on news stands. You can also subscribe to the printed version, or buy a digital subscription (PDF + online reader) instantly. You can also buy a digital copy of this issue without subscribing.