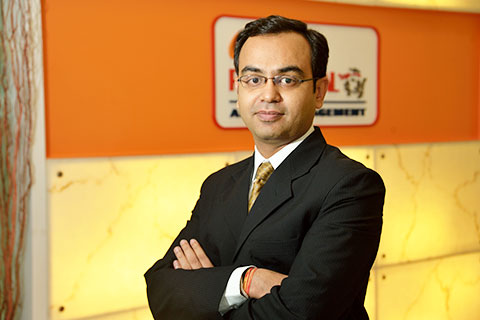 "I'm happy to be a value investor afloat in a sea of growth," says Mrinal Singh, Deputy CIO - Equity at ICICI Prudential AMC, half-jokingly, reminding me a little of the boy and the tiger in the The Life of Pi - the Oscar-winning Hollywood flick. As in the movie, the sea that Mrinal and his boss, Sankaran Naren, navigate is quite a turbulent one, too, though the young star manager doesn't give a hint of it.
In global markets, value investing has been underperforming growth-style investing for the last six years. In India, the slow growth in corporate earnings in recent years has also made growth investing (chasing earnings visibility even at a high valuation) the fashion, with most equity managers sticking to it.
But an unfavourable environment hasn't dented the performance of ICICI Prudential AMC's flagship fund - ICICI Prudential Value Discovery, which Mrinal now steers in his favourite 'value' style. It has comfortably retained its top ranking in the multi-cap category for the last five years. And ICICI Prudential Midcap and Technology funds, also managed by Mrinal, have managed a good show in sideways markets - the reason why I decided to catch up with him.
I found Mrinal in very good spirits when I dialled him one afternoon, just before Brexit. I slipped into the Q&A mode quickly by asking, half in jest, if he had been interested in stocks as a child. The wild guess turned out to be correct. "Even as a child, I used to read the sports page of the newspaper every day. I was always intrigued by the stock quotes on the adjoining page. My father told me that stocks represent part ownership of a business. That kindled my interest in capital markets. Yes, like all kids of my generation, I ended up doing engineering and even worked at Bosch (Mico then) for a while. But after I did my MBA, I was quite clear about making my career in capital markets."
Thank you Lehman
Mrinal did his internship with ICICI Prudential AMC and was snapped up as an equity analyst. But he jokes that it was Lehman Brothers that gave him his first break. "When the Lehman crisis happened, there were fewer takers to manage the Technology Fund and that's how I got an entry ticket into fund management. I managed good performance and was allowed to run hybrid funds, like MIPs, where I did well, too. That was when I started to work with Sankaran Naren on the Value Discovery Fund. In February 2011, when Naren had the opportunity to progress to the position of CIO, I was given the fund to manage," Mrinal happily recollects.
So, was he nervous about stepping into the shoes of one of India's best known fund managers? No, says Mrinal, because he did not realise it at that time!
"I did not interact much with external investors at the media then. I used to be totally internally focused on research. But I was truly lucky to have a value investor as a boss. Value investing comes naturally to me. This style of investing is not something that can be forced on one's mindset."
Naren, his guru, takes a lot of top-down calls based on his macro views. Does Mrinal also do that? "No, I am more a bottom-up guy. I may have a macro view, but often if I find a really compelling business with good prospects and valuations, I would go with it, even if my own macro view doesn't favour it. A view is subject to an error, but company financials and fundamentals are so very predictable that I prefer to rely on them."
Value with an Indian twist
Curious to know what has contributed to ICICI Prudential Value Discovery's outperformance when other value investors were floundering, I ask, "When I look at the Value Discovery portfolio, I don't see the kind of stocks or sectors that are trading very cheap, like PSU banks or commodity plays. So how do you define 'value'?"
Mrinal explains that ICICI Prudential prefers an Indian twist to value investing. "For the last five or more years, we haven't been doing the Benjamin Graham style of value investing, which is typically about investing in low price-to-earnings or low price-to-book kind of stocks. Yes, we began with that approach in 2004. But in India, we have found that this can lead you into a lot of value traps. Instead, we began to look for a discount to intrinsic value or a discount to historical valuations. Plus, we also look at the market cap of a stock a lot more than a low P/E or a low price-to-book value. We take a call on the market cap at which a business should be trading and measure the actual price against that."
But ICICI Prudential Value Discovery's margin of outperformance has come down in the last one year or so. Is that a concern? Mrinal believes that is on account of the fund's defensive call on the markets during April-July 2015. "We felt valuations were getting rich and so we reduced our concentration in some sectors and stocks and rebuilt our positions when we were more comfortable. This was a transition phase and I am confident that long-term performance will continue." He also tags on a request not to evaluate the Value Fund's performance on just one year returns, given its mandate.
The market is the boss
ICICI Prudential's Midcap Fund has a limited exposure to small-cap stocks. Other funds in this category have managed a better show through higher small-cap allocations. Why has Mrinal stuck to mid caps? The value investor in Mrinal peeps out. "We expect small caps to give a 20 per cent plus return. For that, we need attractive valuations. We found good opportunities in 2013 and did a bit of small-cap investing. Those stocks have either turned mid caps or have exited the portfolio. But now we are waiting for the markets to give us mouth-watering valuations before we can reinvest. Today small-cap valuations bring tears to the eyes rather than being mouth-watering," he quips.
But isn't he losing out on the excess returns that small caps deliver? This "Aarati, you know this and I know this: the excess returns that the market gives, the market often takes back. It is best not to get drunk in opportunity. The market is the boss!"
No benchmark hugging
I have read that Mrinal hates hugging the benchmark in his funds. In fact, he doesn't even prefer to peg stocks or sectors in the portfolio to index weights. That sounds good from a generating-Alpha point of view, but isn't he letting investors in for a
higher risk?
"This is a very good point," agrees Mrinal. "My natural instinct is to look at a business on its own merits and make an investment decision, rather than look at what figures in the index. But with that approach there is the risk of drifting too much into a specific sector or going overboard on an opportunity. To prevent that, we have a very robust risk-control framework. Our risk team does not allow more than 20 per cent exposure to a single sector without special approvals, even if that sector has a high weight in the benchmark. They also do a real-time tracking of our portfolio to flag any deviation from the index. The risk team reports directly to the CEO and the board. In the last six years, I don't remember any occasions when we have crossed the 20 per cent limit," he explains.
While Mrinal admits he has to do a lot of justifying because of this strategy, he doubts if a benchmark-hugging strategy can generate high alphas.
His money
So is Mrinal a value investor when it comes to his own money? (After all, proof of the pudding is in the eating). He is, of course, too smart to be caught out that way.
"I don't invest directly in stocks for my personal portfolio. But if given the option, I would be even more of a deep-value investor in my personal portfolio than I am with the funds I manage. The maturity level of Indian investors isn't aligned yet to a deep-value mindset. Deep value requires you to stay invested for long periods. In your personal investments, you don't have to explain why one-year return is low," he says, taking a dig at me.
I laugh and Mrinal explains that he is invested in ICICI Prudential Discovery, Midcap, Select Large Cap, Dividend Yield and Technology funds.
"Those are all funds you manage!" I comment. Mrinal immediately points out that many of his fellow fund managers have even more money than him in the funds he manages.
So, where does Mrinal get his stock ideas? Is he a numbers guy?
Absolutely, agrees Mrinal, adding that ICICI Prudential prefers in-house stock ideas over relying on sell-side recommendations. "In Value Discovery, we use more proprietory research than external research. I find that the more non-capital market sources you meet, the more useful it is to get proprietory information. I have found ex-employees and auditors to be an excellent source of information and also competition." Management meetings usually come last with him.
What are the investment mistakes he has made over the years? Mrinal goes back to his early days as stock picker. "Initially, I used to prefer pure value investing through low P/E or low price-to-book stocks. That often led me to poor-quality managements and businesses. In most cases where I went wrong, it was a faulty assessment of management that was the problem. It is better to back a mediocre business with good management than a great business with mediocre management," he adds, abandoning Graham and lapsing into Buffet speak.
Mrinal's personal portfolio is heavily equity-tilted, with a two-thirds allocation to equities. "ICICI Prudential Liquid Fund is the only debt product I currently have for my debt needs. I used to own ICICI Long Term Gilt Fund in the past," he says.
Chilling out
So is he a sports buff? "I have no time for sports. I spend a lot of time with my children. Because I am fully away for five days a week, my family gets to decide what I do on the weekends," he says, adding that outings in gardens and catching movies are usually the choices. The mention of 'gardens' in the concrete city Mumbai makes me wonder where he lives and he explains that he resides close to IIT Powai, home to many gardens and lakes.
I know that Naren is a prodigious reader and so ask his protégé whether he is a book worm. "There is so much of investment in my life that I have lately stopped reading investment-related books in my spare time. I would like to understand other subjects. I am now reading a book by Siddhartha Mukherjee called The Gene. He also wrote The Emperor of Maladies. I was pretty impressed with his first book and it gave me a lot of insight on genetics and heredity," he replies.
What about a fitness regime? Mrinal laughs and admits that he hasn't managed to take up a sport. "Engaging in some fitness activities still remains a wish. But I do know I need to do something about it. I want to pick up a sport once I have a little more time," says the thirty-something.
An hour has whizzed by. It's time for Mrinal to get back to the closing bell. I sign off from the call with a big smile on my face. From our long conversation punctuated by many jokes and laughs, I get that Mrinal is one cheerful and fun-loving guy who never lets a bad situation get him down. Well, that tells me how he has managed to keep ICICI Prudential's flagship fund ahead in the race despite the headwinds, just like Pi in the movie.
This interview appeared in the August 2016 issue of Mutual Fund Insight.