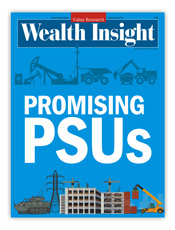 Government-owned companies. Everyone knows that here's a class of companies that are inefficient, not profit-driven, and can be (and often are) taken for a ride by corrupt and incompetent politicians and bureacrats. So how can we claim that public sector units can be 'Promising PSUs' for investors? For the fascinating-and potentially profitable-explanation, read the September 2016 issue of Wealth Insight, with our landmark analysis of exactly why some PSU stocks can make you a lot of money. Like all our articles, this is no empty theory. The article comes with detailed analyses of five star PSUs that can be excellent investments.
Of course, that's not all. Here are the highlights of everything in this issue that will help you make better investment decisions and generate better returns:
Company Tale: Hero MotoCorp The departure of Sunil Munjal from Hero MotoCorp is just the tip of the iceberg of the more complex issues that lie beneath
Interview: Duvvuri Subbarao, former governor of the central bank has made some fascinating disclosures about the RBI's conflict with the government in his recently released book, Who Moved My Interest Rate. Read our interview with him
First Page: Dhirendra Kumar discusses how the digital revolution threatens to uproot and disrupt all kinds of businesses
Market Compass: Index stocks' fall, the pharma decline, the SBI multi-merger, and expensive but dud stocks.
Analysts Diary: A cartoon movie about investing, following Benjamin Graham's methods, how cash EPS is better than EPS, and an insight into banks
Companies with moats: Our regular updated analysis of Indian businesses with competitive advantages and high barriers to entry
Straight Talk: Anand Tandon shows how fundamental investing is about assessing cash flows, reexamining assumptions and staying updated
Main Street: Saurabh Mukherjea laments that very few Indian companies have reliable financial performance
Off Beat: Sanjeev Pandiya refutes the gloomy prophecies about the demise of the dollar
The Chartist: Devangshu Datta talks about the many overhanging problems which will keep the telecom sector's growth in check
Stock Ideas: Read about these investment ideas that you can use now:

Quality stocks available cheap
Attractive blue chips
High dividend-yield stocks
Discount to book value
Reasonably priced growth stocks

Stock Analyst's Choice: Our regular scorecard of the stocks we've recommended since 2011 and their performance.
Click here to subscribe to the printed version, or buy a digital subscription (PDF+online reader) instantly. You can also buy a digital copy of this issue without subscribing.