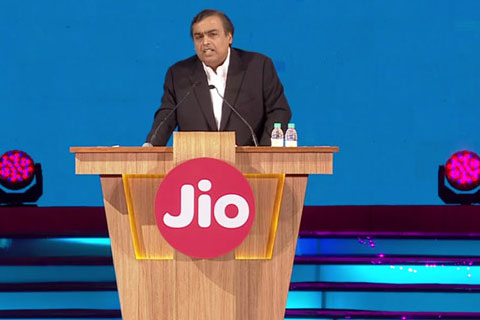 When India's richest person, Mukesh Ambani speaks, the whole world listens. On Thursday, Ambani's speech at Reliance Industries' 42nd AGM spooked investors in listed telecom operators such as the largest operator Bharti Airtel (down 6.37%) and third largest wireless firm Idea Cellular (down 10.48%). Younger brother Anil Ambani's Reliance Communications stock also shed 8.81%. Surprisingly, Mukesh Ambani's Reliance Industries shares too lost 2.73%. Experts indicate that Jio's cheapest data rates and free calls to lure users from rivals are expected to kick off another bruising tariff war, and fears are emerging that shareholder wealth creation will take a backseat.
Market participants had been expecting some big news. When Ambani started speaking about Jio, rival Bharti Airtel and Idea Celular shares started tanking. Ambani said that Reliance Jio Infocomm Ltd, RIL's telecom unit, will allow users to try its 4G service for free till December. It will offer mobile phone data rates for as low as ₹50 per GB. These data rates are about one-fifth of what many rivals charge. While some telecom companies in anticipation have already lowered tariffs, Ambani's confidence and aggressive approach dragged down rival telcos' stocks further.
Achin Goel, Head: Wealth Management & Financial Planning, Bonanza Portfolio, said: "Shares of other major telcos corrected sharply in today's session after the announcements of Jio's plans which is believed to be a game-changer in the telco industry and is bound to trigger a price-war in the near future."
Jio's free voice calling and SMS services bundled with the data tariff could hurt the voice tariffs of existing operators as well as they would need to come up with similar offers in a bid to protect their market share.
Dharmesh Kant, Head - Retail Research, Motilal Oswal Securities, feels that Jio delivered a knockout punch on pricing of voice and data tariffs. He is also expecting RIL to make good of the money it has already invested in telecom. Experts like him are looking at quicker break-even for RIL's telecom investments.
"The launch of Reliance Jio was much awaited and is very much welcome. No doubt tariff plans for voice and data is going to be a game changer for telecom industry. As for Reliance, its large part of capital employed in telecom segment around ₹1.35 lakh crore will start delivering revenues. Though, top line from telecom business will start trickling in, big concern arises on timelines of achieving operating break-even point in context of tariff policy deployed....we expect, per share price of Reliance Industries to remain under pressure in near to medium term. Investor community will closely monitor the roll out and effectiveness of Reliance Jio, in conjunction with plans by competitors to tackle new scenario," said Kant.
Some commentators are more optimistic than others. Tanu Sharma, Associate Director - Large Corporates, India Ratings & Research, feels that data tariffs are bound to see a major correction due to disruptive launch of Reliance Jio Infocomm (RJio) while the benefits from higher data volumes as well as subscriber growth will be back-ended. The existing top telcos (Bharti Airtel, Vodafone and Idea) have already undertaken pre-emptive price cuts by offering higher data volumes for similar pricing to retain their customers.
"RJio may look to disrupt some of the prominent geographies of existing operators, leading to a re-distribution of the market share which is concentrated among the top three operators, in FY17. The operators' debt profile will deteriorate in FY17 as the agency expects them to incur high capex on network expansion and acquisition of additional spectrum to compete with RJio," said Sharma.
From a long-term perspective, many market experts are afraid that shareholder wealth creation at RIL will slow down.
Jimeet Modi, CEO, Samco Securities, said: "Reliance's big bang launch of JIO is certainly a boon for the masses of the country but has left a big question mark on the possibilities for shareholder wealth creation in the long term. Although it is a great moment for consumers of the country, it is certainly a do or die situation for the company."
Modi cited figures that investments to the tune of ₹150,000 crore need to generate at least 11.5% which is the implicit historical return on its investments that it had delivered in the past. "Now therefore to accumulate net surplus of ₹17,250 crore per annum, seems a herculean task in the near future. This is the biggest gamble Reliance has ever played in its history, the success of which will certainly decide the long term prospects for the company."
He also added that technology truly is deflationary in nature and the launch of JIO is the vindication of this fact.