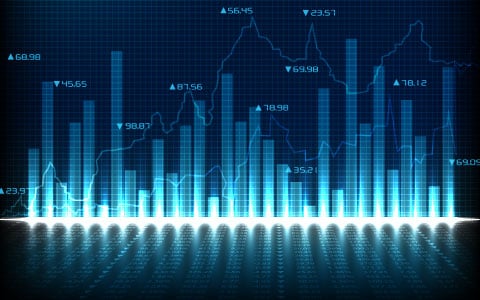 As the Sensex crossed the 28,000 mark, there are some concerns about market levels and whether current valuations are sustainable. But if you go by the leading valuation indicators, you will find that the markets are still in the comfortable zone. Here is a historical analysis of market valuations using the price-to-earnings (P/E) multiple, dividend yield and market-cap-to-GDP ratio.
Markets on the basis of the P/E
Figure 1 shows the market valuations over the last ten years, which capture both a boom and the following bust periods. The market currently trades at a P/E of 19.3, which is also its ten-year average valuation, and is well lower than the peak of 22.6, seen in 2007-08.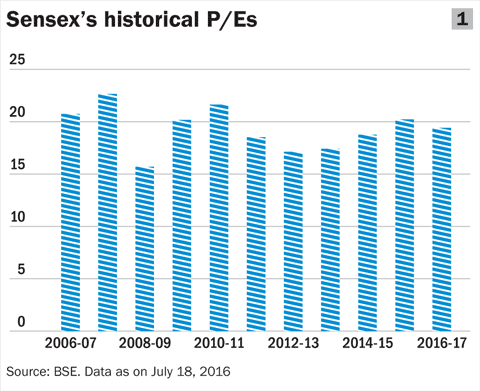 Markets on the basis of dividend yield
The market's dividend yield is an important indicator of how heated the valuations are. Figure 2 shows the Sensex yields for the last decade.
The current dividend yield, which stands at 1.46 per cent, is the third-highest in the last decade. Only two times were the yields higher: in 2012-13 (1.64 per cent) and in 2008-09 (1.52 per cent). So the markets do not look expensive by this barometer as well.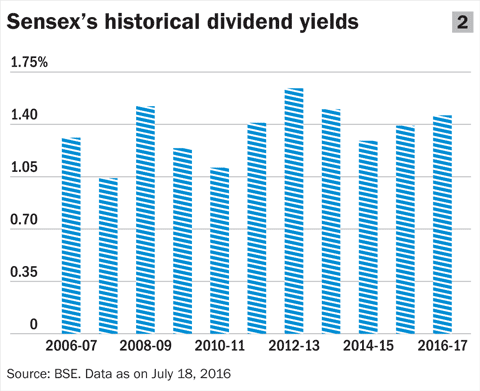 Markets on the basis of market cap-to-GDP ratio
The market-cap-to-GDP ratio was made popular by Warren Buffett, who, in an interview with Fortune magazine in 2001, described this indicator as "probably the best single measure of where valuations stand at any given moment."
Figure 3 shows the market-cap-to-GDP ratio over ten years. The FY16 market-cap-to-GDP ratio stands at 70 per cent - well below the long-term average of 78 per cent and at a much more comfortable level compared to the 2008 highs of 103 per cent. No market heating up here either. So, while the market isn't overheated yet, still do adequate research before buying a stock.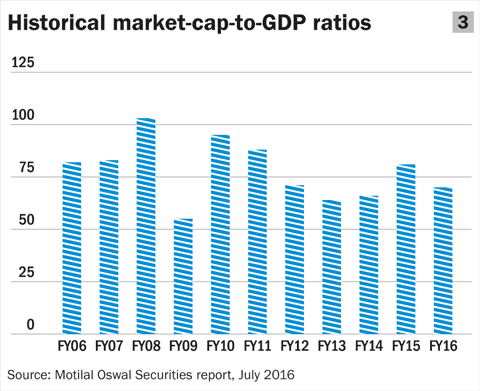 This article first appeared in the August 2016 issue of Wealth Insight.