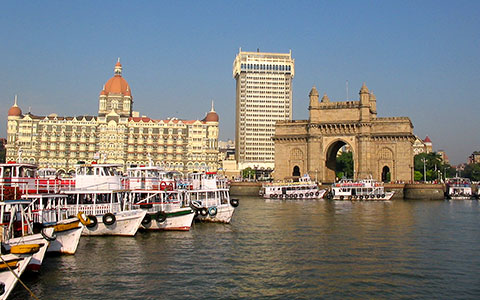 Five years ago, the Mutual Fund Industry was synonymous with the city of Mumbai. It commanded an almost 50% share in Mutual Fund assets. Come 2016, and the financial capital has ceded ground to both the other large cities of India and to smaller towns such as Udaipur, Aurangabad, Vapi, Jodhpur and Dhanbad. Over this time, the industry has also doubled in size. For a financial product few understood or wanted to invest in, the transformation has been spectacular. Small locations across India are now teeming with mutual fund backers.
Five years ago
(See figure below)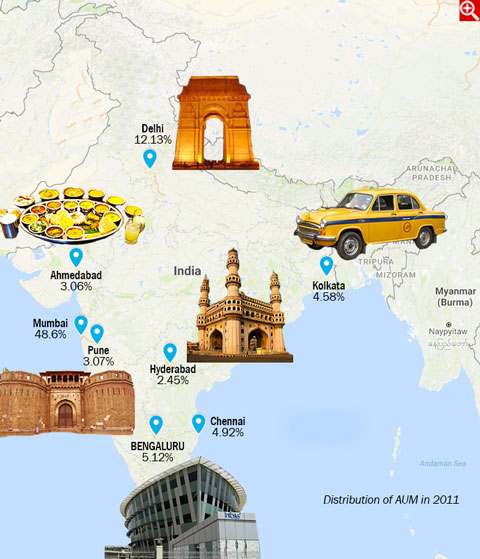 According to the earliest city/town data with AMFI, Mumbai had a massive share in industry AUM at 48.6 per cent in September 2011. Then came, Delhi a distant second with a 12.13 per cent share. The third spot was taken by Bangalore with 5.12 per cent share, less than half of Delhi's AUM. Chennai (4.92 per cent), Kolkata (4.58 per cent) followed, rounding off the top 5. Below these stood Pune (3.07 per cent), Ahmedabad (3.06 per cent) and Hyderabad (2.45 per cent)

Sea Change
The Maximum city lost market share by a whopping 7.52% over the past 5 years. This has been seized partly by Delhi (3.27% increase), Pune (0.71% increase) and Bangalore (0.54% increase). It has also been seized by small towns that hitherto hadn't figured on the MF map. The top 10 cities' share dropped from 85% in 2011 to 82.5% in 2016.

Overall industry AUM grew by about 115% between 2011 and 2016 but this was outpaced by locations like Rajasthan's Udaipur (364%), tourism hub Aurangabad (299.45%), highly industrialized Vapi (299.4%), 'Sun City' Jodhpur (222.64%), 'chappal' hot-bed Kolhapur (222.6%), Dhanbad (207.27%), sports goods nursery Meerut (202.2%), milk capital Anand (195.75%) and 'Pital Nagri' Moradabad (195.7%).
Amritsar, Jalandhar, Jaipur, West Bengal's Siliguri, Jamnagar, Nagpur, Dehradun, Varanasi, Allahabad, Ranchi, Agra, Raipur, Bhilai, Visakhapatnam, Bhopal and Rajkot have also seen a sharp growth in assets under management, according to an analysis of AMFI data. SEBI's push in this direction, allowing AMCs to charge a higher expense ratio based on flows from smaller towns is likely to have helped this shift.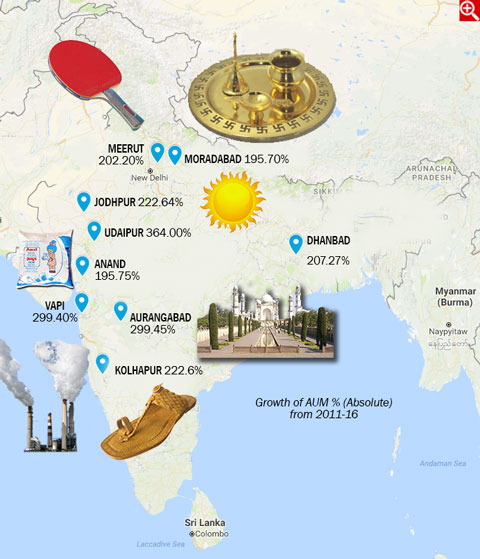 Left behind
Other small towns however, saw a below-par growth in AUM. Goa's Panaji or Panjim witnessed 32 per cent AUM growth - one-third the national pace over this period. Mysore in Karnataka saw barely 1.2 per cent AUM growth. Bhubaneshwar, Vijayawada, Jamshedpur, Trichur, Hubli, Trivandrum, Surat, Lucknow and Chennai also grew at a rate that was below the national average during this analysis period.