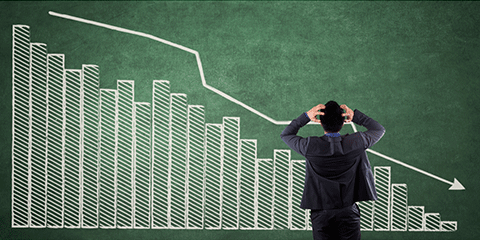 Stocks may be rallying post-Brexit, but not everybody is in buy mode. In a cautious signal on the markets, mutual funds have been net sellers of equities for two straight months now. After pumping in over ₹46,000 crore between August-15 and February-16, these domestic institutions have net sold ₹33.5 crore in July-16. In June, mutual funds had net sold stocks worth ₹86.30 crore.
To be sure, recent net sales have been small. But it is the trend which is interesting. Compared to over ₹70,000 crore in 2015, mutual funds have so far (till August 3, 2016) invested just about ₹8,700 crore (net) in the first seven months of 2016. MFs were net sellers in March, April, June and July.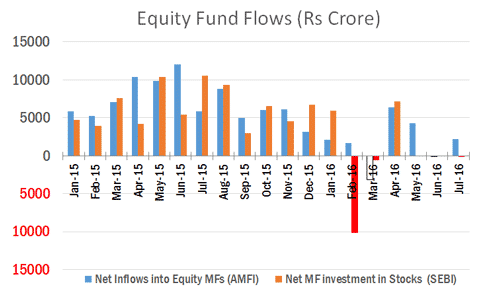 From buy to sell
Mutual funds have in the last few years emerged as serious buyers of equities in domestic markets. While insurance big daddy LIC remains the largest domestic institution in terms of investment in the capital market, mutual funds invested a staggering ₹71,000 crore in 2015 in equities, according to SEBI data. In comparison, Foreign Portfolio Investors or FPIs had pumped in a net ₹17,806 crore in the same 12 months according to CDSL.
In 2015 the massive infusion of funds by mutual funds in stock markets was driven by copious inflows into equity schemes. Investors pumped in over ₹85,000 crore (a little over ₹7,000 crore every month) into equity funds in that year. This was the highest yearly inflow figure in 10 years. In the seven months of 2016, the equity category saw a little over ₹13,300 crore worth of inflows, or ₹1,900 crore a month - a deceleration compared to ₹7,000 crore a month in 2015.
Flows apart, market experts have also been warning of pricey stock valuation which could have prompted profit taking. Kotak Institutional Equities said in a recent research note: "...it appears that earnings and valuations are in two different 'worlds'. Earnings are facing the gravitational pull of weak demand and other earthly issues while valuations are in a gravity-less (and risk-free) 'world'. We hope that the two converge at some point in time through earnings rather than through valuations."
Some also feel that the market is expecting too much from the GST. "We think the market over-estimates benefits in calling it (GST) a game-changer. Studies show that the GST will raise GDP by 0.9%-1.7% - and this benefit will likely accrue over a few years. Although much is made out of gains from fiscal incentives or tax administration efficiences, the fact is tax buoyancy is seen as pro-cyclical," said Bank of America Merrill Lynch Global Research.