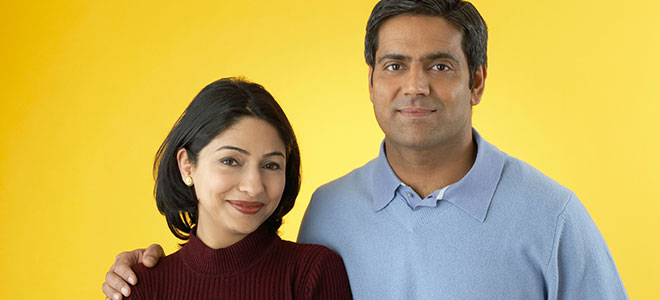 Adil (47) and Sarah (46) are successful professionals with a daughter who is studying in Europe. Recently Adil has unfortunately diagnosed with cancer and he will be taking an early retirement from his job. They are trying to reorient their finances towards meeting the expenses for Adil's treatment.
What they have:

Income:

Rs

150,000 per month
Expenses:

Rs

100,000 per month
80 lakhs in tax free bonds and mutual funds, own house (3 BHK)
What they want:

Treating Adil's cancer
Paying for daughter's education
What they should do:

Emergency Fund: Adil and Sarah are already facing an emergency situation as a result of the critical illness in the family. So as a first step, they should keep aside a large sum (an estimated 20 lakhs), primarily to meet Adil's medical expenses. Of this amount,

Rs

5-7 lakh can be held in a savings bank account while the rest can be parked in a liquid fund.
Health Insurance: Adil has already been diagnosed with a critical illness, so it is unlikely that he will get a health cover, however he can consider buying a health plan for his spouse and daughter. A floater plan for 2-3 lakhs sum assured will be sufficient and with no claim the sum assured will increase at every renewal. The annual premium would range from 6,000-8,000.
Life Insurance: Since Adil is diagnosed with critical illness, insurance companies will not issue life cover. However they should buy life insurance for Sarah since she is likely to be the sole breadwinner for the family. A 1 crore policy on Sarah's life will cost them about

Rs

2,500 per month.
Investment Portfolio: At present they have a corpus of

Rs

80 lakhs. Out of this they can ear mark

Rs

25-30 Lakhs for their daughter's education and

Rs

20 lakh for Adil's cancer treatment. The remaining

Rs

35 lakh should be geared towards meeting their household expenses till the time Sarah resumes work after a break for Adil's treatment. This money should be invested in a couple of good short term debt funds from which they can create a monthly Systematic Withdrawal Plan (SWP) in order to fund their expenses. This type of plan can withdraw a fixed amount every month from the fund.
Having said that, Adil's medical treatment will create a large funding gap in their finances in the long term. They can consider filling this gap by selling their existing 3BHK house and moving to a smaller house - especially since their daughter no longer lives with them. They should also ensure that they claim the expenses on medical treatment under Section 80 DDB.