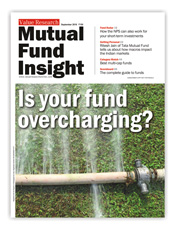 High mutual fund expenses are like a chronic, undetected disease. They hollow out your returns without showing any overt symptoms. But make no mistake, the damage is happening every day. Every investor should understand what mutual fund expenses are, how they are charged, and how different various funds are. To know everything about expenses, read the cover story of the September 2016 issue of Mutual Fund Insight, 'Is your fund overcharging?'.
There's a lot more in this issue. Here are some of the other features that will help you make better investments and generate higher returns:
First Page: Dhirendra Kumar explains how investors' different mindsets affect their returns.
Category Watch: Mutli-cap funds strive to give you the best of all worlds, and many of them succeed in doing so
Fund Analyst Choice: Eight top-performing multi-cap funds, chosen for you by our analysts
Top-Rated Funds: Funds that are rated five star by us
The Plan: 33 years old Chethan's life has been disrupted by an accident that has left him disabled. Our analysts plan how he will cope with caring for himself and his family
Ask Value Research: Our team answers savings and investment queries from readers
Fund Radar: Our news and notes about happenings in the world of mutual funds:

How SEBI's diktat to AMCs to merge similar funds fits HDFC's two leading funds
How to use NPS as an excellent, high-returns alternative to fixed deposits and aven savings accounts

Fund Reporter: Our digest of the month's most useful mutual fund news

Inside Funds: Learn about sectors and companies from trends in mutual funds' portfolios
Interview: Rajeev Thakkar, CIO of PPFAS Mutual Fund discusses how investing in US companies fits well in his domestic fund's strategy
Getting Personal: Ritesh Jain, Chief Investment Officer, Tata Mutual Fund, tells us about his personal and professional life
Portfolio Moves: An analysis of Birla Sun Life Small & Midcap Fund
Quick Chat: Jayesh Gandhi, Fund Manager of Birla Sun Life Small & Midcap Fund discusses his fund's performance and prospects
Direct Advice: Aarati Krishnan shows why risk-taking makes no sense in debt funds
And the Point Is...: Vivek Kaul explains a classic sales trick played on customers by real estate sales agents
Value Research Online: Our Equity Fund Card, downloadable for free from our website shows you everything you need to know about a fund at one glance
Scoreboard: India's most comprehensive mutual fund scorecard. Key performance numbers and investment details for each fund
The issue is now on news stands. You can also subscribe to the printed version, or buy a digital subscription (PDF + online reader) instantly. You can also buy a digital copy of this issue without subscribing.