The fund's core portfolio constitutes long term holdings which are stable in nature," says Mahesh Patil, fund manager, Birla Sun Life Frontline Equity Fund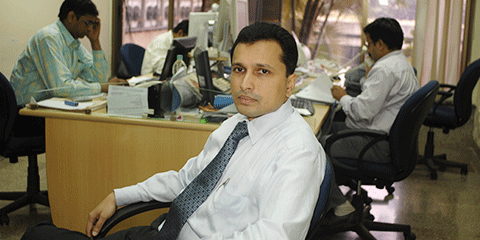 What is the investment strategy of your fund? (Including internal rules on investment universe, capitalization orientation and maximum cash allocation)
BSL FEF is a diversified equity fund that invests across sectors in the large companies. It seeks to maintain its sectoral weightage within a tight range of the sectoral allocation of its benchmark index (S&P BSE 200). However it has the flexibility of selecting the stocks within a particular sector from a wider investment universe. The fund avoids taking large bets at the stock level (lower active weights) thereby reducing the risk and emphasizing on beating the index consistently by a reasonable margin. The fund's core portfolio (above 70%) constitutes long term holdings which are stable in nature whereas the balance could be tactical bets depending on the short-term opportunities.
What are the essential attributes for the stocks to be in our portfolio?
The fund follows a bottom-up approach for stock selection and looks at factors such as quality of management, growth potential, sustainable competitive advantage, superior return on capital, reasonable valuations, etc., while deciding on the stocks. All the above mentioned attributes are evaluated thoroughly by the investment team and then the investment call is made.
What kind of stocks never enter your portfolio?
Small and micro cap companies do not enter the portfolio. This is a large cap fund with upto 15% maximum midcap allocation.
What will you attribute the relatively consistent performance of your fund in recent years?
Fund's consistent superior performance should be attributed to the discipline investment strategy it follows. Identification of key trends prevailing in the market and the consistent investment approach has helped the fund beat its benchmark by 5 percent (annualised basis) over a 10-year period across business cycles and intends to outperform the benchmark index by a reasonable margin in the future.
Any tactical miss you regret (not having, or not having enough or holding something) in your portfolio?
Any sector / stock that does well seems to have had less weight with the benefit of hindsight whether it is NBFCs, Cement, or Metals like in recent past.
Please click here to read the analysis of this fund.