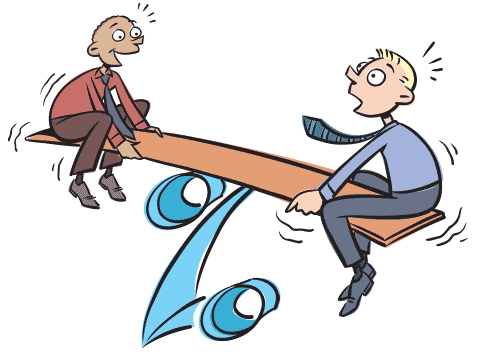 For the last two years, cyclical stocks have languished. Investors holding cyclicals have largely seen their wealth getting destroyed during this period. That changed with 2016. Cyclicals have actually turned out to be the best wealth creators this year, beating the traditional defensives by a large margin. Figure 1 shows how cyclicals have largely underperformed during the last two years and then turned around.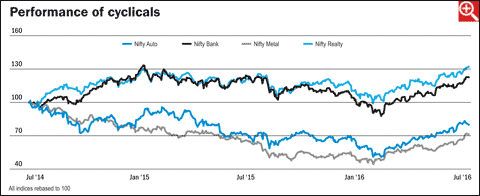 Why was 2015 a tough year for cyclicals?
A number of factors came together to make 2015 a forgettable year for cyclicals. Commodities, which include metals and crude, saw one of their worst periods in a long time. Crude crashed by half to hit $40 per barrel by the end of last year. Demand for metals, like iron ore and steel, melted as China saw unprecedented demand weakness. Banks remained under pressure as RBI governor Raghuram Rajan's provisioning policy forced banks to do NPA provisioning that had never been seen on that scale before. A weak monsoon further exacerbated an already weak demand environment for umpteen core-sector players.
Things appear to be changing this year
Cyclicals are seeing a change in fortunes beginning this year. In fact, cyclicals have beaten traditional defensives: pharma, tech and FMCG in market returns. See Figure 2 for a comparison between the returns given by cyclicals and defensives.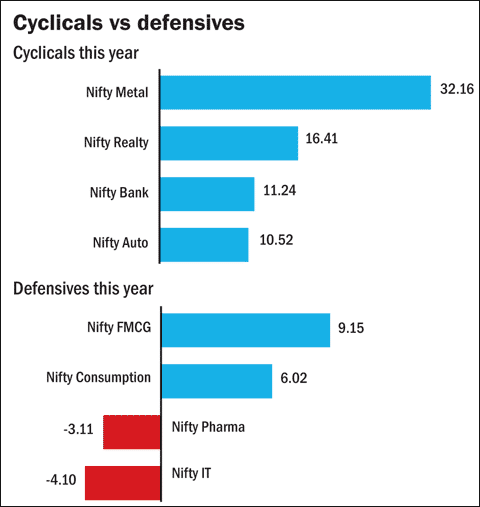 This outperformance has been caused by a number of factors, which are as follows:
Metals: Metals have seen prices recover from their 2015 lows. Domestic steel prices were up 11 per cent in the latest quarter (QoQ, Q1 FY17). Zinc prices were up 14 per cent. Metal prices are expected to remain stable from here.
Figure 3 shows the top five outperformers in metals this year. In spite of the run-up in prices this year, JSW Steel and Tata Steel are still set to be one of the biggest gainers due to their improved volumes and price growth.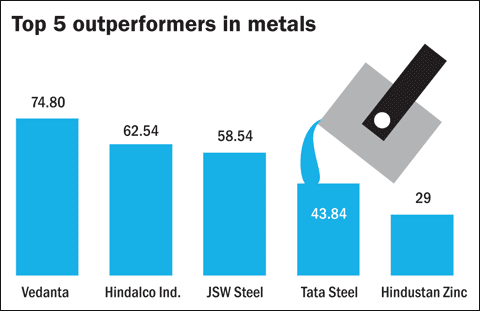 Realty: Realty players suffered from high residential inventory levels and weak demand. The commercial space is buzzing with interest from private-equity players. With Raghuram Rajan gone, the markets expect the next RBI governor to cut interest rates in line with the government's wishes. That, coupled with new regulations in the realty sector, is expected to fuel growth in the demand for real estate. Look out for Godrej Properties and Oberoi Realty.
Figure 4 shows the top five outperformers in the real-estate space.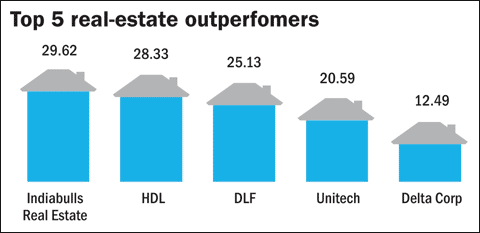 Banks: The banking sector has suffered since the second-half of the last financial year on account of provisioning and asset-quality reviews forced by Raghuram Rajan. Unprecedented provisioning by public- and private-sector banks alike, including by the larger ones like Bank of Baroda and ICICI Bank, have kept the pressure on. There is no clarity on whether all the provisioning has been made. Further provisioning could continue to keep the sector in stress.
A higher focus on recoveries, coupled with improving demand in the auto and cement sectors, is expected to keep the sector buzzing. Figure 5 shows the top five outperformers in the banking space.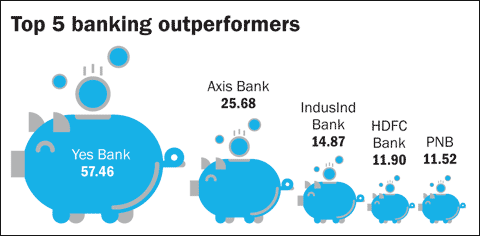 Automobiles: The automobile sector has been buzzing this year. Barring passenger-vehicle sales, which are taking a breather after a good show last financial, most other verticals continue to report strong volume growth. Utility-vehicle volumes are up 45 per cent (YoY, Q1 FY17). Light commercial-vehicle volumes are up 11 per cent. Medium commercial-vehicle volumes are up 14 per cent, with scooters, mopeds and motorcycles up 27 per cent, 18 per cent and 5 per cent, respectively.
A number of factors are working in favour for the auto sector this year - above-average rains in most parts of the country, the impending passage of the GST bill and the implementation of the Seventh Pay Commission.
Keep an eye out on Eicher, Asahi and Motherson Sumi; they are expected to report smart earnings gains. Figure 6 shows top five outperformers in the auto space this year.