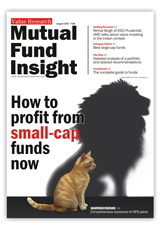 Small-cap investing has a (well-deserved) reputation for bringing volatility into your portfolio. However, experience shows that the same volatility can be your friend and get you higher returns, provided you invest through mutual funds and choose the right kind of funds. And how can you do that? That's easy, just read the cover story of the August 2016 issue of Mutual Fund Insight, 'How to profit from small-cap funds now' .
But that's not all that the issue has. Here are some of the other features of the issue that will help you make better investments and generate higher returns:
First Page: Dhirendra Kumar shows you how small cap investing is the best kind of equity-based investing.
Category Watch: To balance out your small cap holdings that our cover story recommends, read all about the best large-cap funds
Fund Analyst Choice: Eight of the best large-cap funds, selected for you by our analysts
Top-Rated Funds: Funds that are rated five star by us
The Plan: 29 years old Nikunj wants to buy a house. However, to do so, he must compromise somewhere else. Read how our analysts replanned his investments
Ask Value Research: Our team answers savings and investment queries from readers
Fund Radar: Our news and notes on the Brexit impact and the decline in fund distributors' commission earnings.
Fund Reporter: Our digest of the month's most useful mutual fund news
Inside Funds: Learn about sectors and companies from trends in mutual funds' portfolios
Interview: Richard D'souza, Fund Manager of SBI Magnum Multicap Fund tells us all about the reasons behind his fund's performance
Getting Personal: Mrinal Singh, Deputy CIO - Equity, of ICICI Prudential Mutual Funds
Portfolio Moves: An analysis of SBI Magnum Multicap's investments
Direct Advice: Aarati Krishnan shows why the historical assumption of getting 15-20 per cent returns from equity funds is no longer valid
Value Research Online: Our Equity Fund Card, downloadable for free from our website shows you everything you need to know about a fund at one glance
Scoreboard: India's most comprehensive mutual fund scorecard. Key performance numbers and investment details for each fund
The issue is now on news stands. You can also subscribe to the printed version, or buy a digital subscription (PDF + online reader) instantly. You can also buy a digital copy of this issue without subscribing.