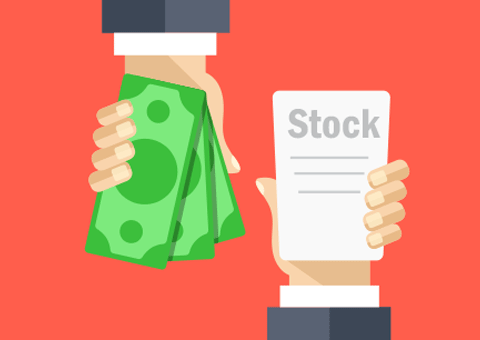 You should always look at the level of pledged shares in the companies you are looking forward to buy or are already invested in. The level of pledging of promoter shares is an important indicator and often an early warning sign of the future financial health of a company, especially if it is already struggling in a slowdown or is unable to service existing debts. An increase in promoter pledge in such situations is often not good for the equity shareholder.
There is another risk of holding companies with high levels of pledged shares. If the company defaults on debt repayment, lenders often resort to dumping pledged shares in the stock market, which is already nervous about the financial viability of the firm, thus further hammering the stock down.
Pledging at close to all-time highs
The period between March 2009 to March 2010 saw India Inc. reduce its pledged shares in a sharp manner. Pledged shares of the BSE 200 companies as a percentage of total shares outstanding have risen from less than 3.2 per cent in March 2010 to the current levels of 4.45 per cent.
Not only in percentage terms, the total value of shares is close to all-time highs of around $16.5 billion (Ambit estimates). That's 1.6 times the value of pledged shares since September 2014. The accompanying graphic shows how pledging has increased in percentage and value terms.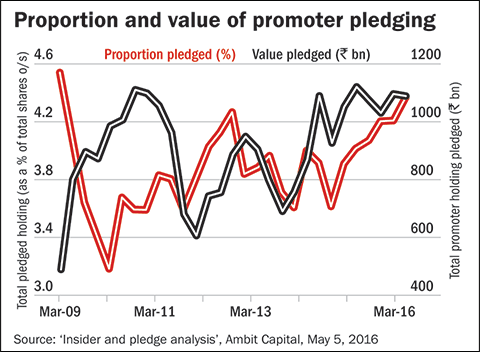 Companies with the highest pledged shares
The table lists out the top 20 companies with maximum promoter shareholding pledged. There are two things to consider about companies with high promoter shareholding pledged: First, it tells you that promoters are hungry for cash to run the operations. A high-quality business never requires its promoters to pledge their shares, even for expansions. Second, the higher the proportion of promoter shares pledged, the less leeway they have to run operations with a free hand. Lenders will appoint their own members to the board. Such appointees will have the lenders' interest as the primary guiding factor rather than the shareholders'. Stay far away from such companies.