Kenichi Ayukawa became chief executive officer of Maruti Suzuki India Ltd on 1 April 2013, when India's largest car maker hadn't quite recovered from a horrific riot at its plant in Manesar, an industrial town in Haryana. On 18 July 2012, militant workers armed with iron rods and wooden sticks went on a rampage at the factory in what the Indian unit of Japan's Suzuki Motor Co. then described as "orchestrated mob" violence that didn't seem to stem from a dispute over wages or working conditions.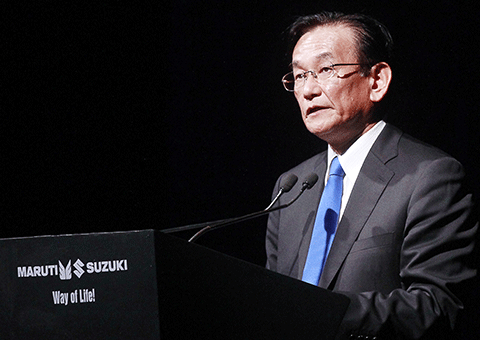 One person, senior human resources manager Awanish Kumar Dev, died after his legs were broken and his office was set on fire. Some 100 more, both Indian and Japanese employees, were attacked and injured. People jumped out of the mezzanine floor as the fire blazed away. Had the fire spread to the stockyard, where 1,000 cars were parked, each with 3-4 litres of fuel in the tank, the entire factory may have gone up in flames instead of just the office block.
More than three years after he took the helm at Maruti, Ayukawa says his top priority still is to "delete" memories of the riot-an indication of how deeply the incident is embedded in the collective consciousness of employees-and move on. "When we look at our 30-year history, we have to improve on a lot of things. Those kinds of things we have to delete," Ayukawa said in an interview. The Manesar incident led to a month-long closure of production at the factory. In Tokyo, the Japanese car maker's dazed management struggled to make sense of it. The riot took a heavy toll on Maruti; the production halt hurt sales, taking its market share to 39% in 2012-13 from 45% in 2009-10 (it did make up for the one-month manufacturing halt by stepping up production in the remainder of the year). At its peak, the car maker used to sell one of every two cars bought in India. Its operating profit margin plunged to 7.2% from 13.5%.
Maruti shares fell to a 52-week low of 1,047 in the immediate aftermath of the violence. Maruti's image took a beating as well. Following the labour trouble, it was being widely perceived as a company with a hard-nosed and cost-focused management that cared little about workers' welfare. In three years under Ayukawa, Maruti Suzuki has bounced back, prompting the management to reward him with a two-year extension until 2018. At 47%, the car maker's market share is at its highest since 2000. Last year, it surpassed its parent in terms of market capitalization and sales, and exported a made-in-India car to Japan, a first.
Maruti's stock is currently trading around ₹3,900, having more than tripled since the riot.
Building bridges
The importance of Maruti in Suzuki's scheme of things has grown significantly. The parent has given the Indian unit charge of driving its operations in new and emerging markets such as Latin America and Africa. To stay on the course of the turnaround and not be distracted by labour strife, Ayukawa, in his three years in India, has spent time and energy to build bridges with workers.
An internal inquiry by Suzuki Motor found "miscommunication and management failure" among the reasons for the 2012 violence. On the first day of every month, after declaring monthly sales numbers to the stock exchanges, Ayukawa heads to Maruti's manufacturing unit in Manesar to talk to the workers. The discussions are freewheeling from wages and other benefits, housing and welfare to the automobile market and customers' response to Maruti cars. Ayukawa also talks about the need for employees to work overtime to meet rising demand. "After declaring monthly numbers, I explain to them (workers) what happened at the market, what is going wrong with the market. They understand our situation. That is bringing some difference (in management-labour relations)," Ayukawa said. Arguments do happen, but they are peaceful, Ayukawa said.
To be sure, Maruti Suzuki's productivity has always been high, even before Ayukawa took the helm. Between 2009-10 and 2011-12, India's largest carmaker had the capacity to produce 1 million cars a year. But it actually produced 1.01 million in 2009-10, 1.27 million the next year and 1.13 million in 2011-12. The sales of passenger vehicles in India grew at an average of 25% during those years.
Firms struggled to meet demand. Maruti, then a veteran of 25 years in the country, sensed an opportunity and started to accelerate on all fronts. Marketing and sales infrastructure was expanded, and factories were running in three shifts. On most days, shift duration used to be increased to produce more and meet demand. In 2009-10, Maruti's net sales grew 42% (against the industry's average of 26%) and net profit more than doubled to over $500 million. It protected its 45% market share during the year even when the small car segment was getting competitive with the advent of products from rivals. Operating and net profit margins at 13.5% and 8.6%, respectively, were inching to levels that were among the highest in 10 years.
The backstory
Then, everything changed. There were reports of workers complaining of worsening working conditions (including shortened loo breaks) and demanding higher wages. Casual workers demanded permanent jobs. These led to a series of strikes (the first strike happened on 4 June 2011).
For a year, these protests took their toll on Maruti's production when the demand for its cars was at an all-time high. Desperate measures were taken. The firm tried to resolve the issue by paying off the original union leaders. This heightened tension within the plant. The company was focused on one objective: increase output, increase market share and increase profits. Until 18 July 2012, when the sudden outbreak of violence left many management executives and workers traumatized. When the plant did reopen a month later, having been refurbished, the management had got rid of all the workers involved in the violence.
People at Maruti who spoke to Mint said those who did return to work were still on the edge after the near-death experience they had gone through. "This kind of a thing had never happened before," said Ayukawa, who had briefly served on the board of Suzuki's Indian unit in 2008. "In Japanese firms, there is very good collaborations between management and association. Unfortunately, India has not established that kind of concept." Even before Ayukawa officially took charge of the Indian unit, he was brought on board by Suzuki Motor chairman Osamu Suzuki as the point-person in Japan to handle the crisis in Manesar. The 85-year-old group patriarch, known as OS, was obviously not going to ignore what had happened, but neither would he do anything in haste. The need for a change was, however, widely felt-change in business structure, management and culture. "You would not expect a kneejerk reaction from OS. He is a seasoned businessman, but it was clear that things would not remain the same," said a top executive at the firm who requested anonymity.
Inaction and rivalries
Suzuki started to frequent India regularly in anticipation that Maruti will submit a report on the reasons for the sudden eruption of violence. In a 22 August 2012 board meeting, he said, "I want an in-depth analysis why it happened... a great company does not let such a failure to go without learning a lesson. After all, why did Awanish have to die?" Even then, things did not move.
Maruti's top management looked for ways to avoid a fallout. In executive functions, the team included Shinzo Nakanishi, the then CEO; S.Y. Siddiqui, managing executive officer, or MEO (human resources, finance, information technology and legal); M.M. Singh (MEO, production); Sudam Maitra (MEO, supply chain); I.V. Rao (MEO, engineering ) and Mayank Pareek (MEO, marketing and sales).
Nobody came forward to take responsibility. When the Manesar plant reopened on 21 August 2012, the company was keen to make up for lost time-the month-long hiatus had meant a production loss of 35,000 cars-and ensure it could meet the backlog of orders and demand in the festival season that began in September.
Executive rivalries weren't new to Maruti; they had been a constant since its last Indian managing director, Jagdish Khattar, retired in 2007. The new management under Nakanishi and R.C. Bhargava were to groom the next Indian managing director for the company. That's why they devised the structures of executive officers-two people, one Indian and one Japanese, to head each vertical. It was widely understood that Indians were to be identified to lead the company one day. "But, those who were identified to lead the company lost their focus. Some of them adopted an expansionist policy, which was to control as many functions as they can besides interfering in the functions of other verticals," said a Maruti executive who has been with the company for nearly a decade, on condition of anonymity. In April 2011, Siddiqui promoted Singh, Maitra, Rao and himself as senior MEOs. Siddiqui and Singh were directly in charge of the situation at Manesar. The differences between the top leadership were so visible that in the first top-level meeting on 20 July 2012, two days after the Manesar violence, Pareek asked for the sequence of events that led to the violence, but he was ignored. Along with Khattar, Pareek had been instrumental in resolving the labour strike at the firm's Gurgaon plant in 2001. "The top leadership did not offer to quit. In fact, there was a view from Suzuki management to hold them responsible, but the Indian leadership believed it was not their fault at all. But the general feeling was they should have resigned," said the Maruti executive cited above. "The situation was murky. There was one thick layer at the top and the second layer would suffer because of that. It was suffocating. Different camps were created," another executive said.
Cracking the whip
Ayukawa said that the company needs to put in place an audit system that would enable it to investigate such matters. "We trust our people. Sometimes, people make mistakes. We have to check those kinds of things for... we are a listed company. We have shareholders. We have to comply with all the regulations, etc. If something unexpected like that has happened, we have to take a decision based on the legal requirements," he said.
Nakanishi, whom Ayukawa succeeded, had been widely expected to get an extension. He was considered to be close to Osamu Suzuki. Nakanishi was Suzuki's first employee in India and had developed affection for the country, with its people, and Maruti. Even his daughter had been born in India.
Nakanishi's exit meant Suzuki was going to crack the whip finally. But before that, he introduced two of his key aides: Toshiaki Hasuike, who was serving as managing officer at Suzuki, was made joint managing director of Maruti. Toshio Ozawa was named adviser for human resource activities.
Hasuike had also served as a director on the Maruti board for a brief period between September 2007 and January 2008. In the following year, Maruti stripped three chief operating officers (COOs) of their executive powers. They were Siddiqui, Singh and Maitra, who were redesignated as chief mentors. Two of them, Siddiqui and Singh, were in charge during the labour unrest that led to the outbreak of violence in Manesar. Senior executives at Maruti have typically been given two designations, one along the lines followed by the Japanese parent, and another along more commonly prevailing lines across organizations. For instance, the COOs were also designated senior MEO or MEO.
Siddiqui now supervises Maruti's sales infrastructure development team that plans to acquire land at 5,000 sites (around 25 million sq. ft) across the country under a new subsidiary, which will then lease it out to build future dealerships. Even the marketing and sales (M&S) vertical was not spared. Their long and leisurely meetings with the CEO that used to run into hours were cut short to minutes. "In his first meeting with the M&S team, when like usual they were being assertive, Ayukawa pointed about a few weak links like why the sales of a few particular models were faring badly and one region has seen growth tapering. The meeting got over in 5-10 minutes and that has become the norm now," said the Maruti executive cited above. In one of the meetings, when the M&S team said slow economic growth meant that they wouldn't be able to achieve their sales target, Ayukawa shot back: "Were you sleeping before this?"
Pareek, M&S COO, quit in September 2014 to join Mumbai-based Tata Motors as president of its passenger vehicle business unit.
The turnaround
In the meantime, Ayukawa's efforts to communicate regularly with the workers seem to have paid off. There has been no significant labour strife under his leadership. The turnaround seems to be complete. In the fiscal year ended 31 March, sales at Maruti expanded 11.5% to 1.43 million units, a record, putting it on course to its target of selling 2 million units by 2020 and perhaps even 3 million by 2030.
The National Democratic Alliance government expects the passenger vehicles (PV) market to triple to 9.4 million units by 2026 from 3.2 million now if the economy grows at an average rate of 5.8% a year, according to the Auto Mission Plan 2016-26. If the economy grows at an average yearly pace of 7.5%, the size of the PV market is forecast to rise to 13.4 million units, making it the world's second largest, behind only China.
To be sure, India is the only market in the world where the market leader sells close to 50% of the total market. To claw back lost market share and then increase it further is a daunting task in the car business. In the months following the Manesar violence, Maruti was, in fact, helped by a downturn in the automobile market when overall car sales declined for two consecutive years, in 2013-14 and 2014-15.
"Typically, when you go through a slowdown, a company that exists for a long time tends to gain. We had our processes in place, which got us our customers back," said a sales and marketing executive at Maruti.
Maruti also changed tack. As top models were struggling for buyers, it started to focus on old war horses such as the Omni and Eeco vans and the Dzire Tour compact sedan, which are mainly commercial vehicles. "In fact, we were hard-selling them. Others were either flat or declining. Our focus has been to grow these brands. What that meant was that the decline in sales of popular models was compensated by those which were not selling well earlier," the sales and marketing executive said.
The third thing that helped Maruti was its dealers, who had invested in a lot of non-core businesses that suffered because of the slowdown and now returned their sights to selling cars. There is a clear mandate from Ayukawa that the basics have to be right. As he puts it simply: "First, explain to me what is happening and what is the reason? I want a reason for the proposal that comes to me. That is very key if I have to decide something. The point is, we have to create counter-measures in case of marketing. I expect some logic. I ask questions and if they could explain them, I am fine." One example is the Nexa, a separate sales network created to position Maruti cars as premium offerings in the market. "In case of the Nexa, I agreed with the concept. They plan to execute it, I don't instruct in that," Ayukawa said.
The challenges
The automobile market, meanwhile, is set to get more complicated. Changes will be twofold. The government plans to introduce new norms relating to safety and emission features that will be at par with the best practices in the world. Such regulations will increase the cost of producing a car, which could be an impediment Maruti, which has played strongly on the price front in the small car segment.
According to Abdul Majeed, partner and auto practice leader, PricewaterhouseCoopers, the real test for Maruti starts now. "Changes in regulations give bigger multinational firms an upper hand as they have been using such technologies across the globe. We will have to wait and see how effectively Suzuki can bring such technologies to India," Majeed said.
Maruti is not leaving anything to chance. The car maker is ramping up its capabilities at a scale that has never been seen before in India. It plans to introduce 15 new models in India by 2020. While it has signed a manufacturing agreement with its parent, which is setting up a factory to produce up to 1.5 million vehicles a year in Gujarat, it is utilizing its remaining cash to double its sales and services infrastructure. "I want to rewrite the 30-year-old history," Ayukawa said. "I reiterate that in every quarterly meeting."
This column appeared in the May 2016 Issue of Wealth Insight.