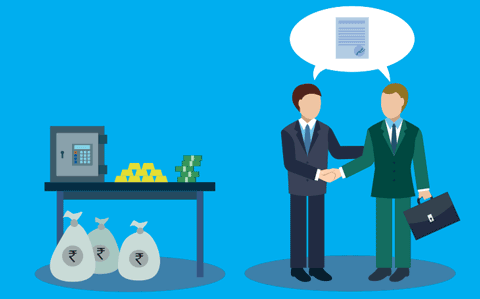 Sell in May and go away is an adage in the equity markets. But 2016 has seen MFs sell bonds in May. According to SEBI data, mutual funds net sold bonds worth ₹2,317 crore in May 2016 - the operative word being: net-sold. This is the first month since July-2013 when mutual funds have actually sold more debt securities than they bought in the secondary markets.
Usually mutual funds are net buyers of debt. Look up any month in recent history and you can see mutual funds mopping up debt worth a few thousand crores. So did something snap this month? Yes, investors exiting gilt funds on the expectation of limited upside from here, and low fresh inflows seem to have contributed to this.
During 2015-16, the net investment by mutual funds in debt was ₹3,76,295 crore. This averages out to about ₹31,000 crore every month. April 2016 was no different with mutual funds investing ₹35,500 odd crore. But come May and the net-investment figure turned negative.
When asked about the net-selling in debt by MFs, Lakshmi Iyer, Chief Investment Officer (Debt) & Head Products, Kotak Mutual Fund said both lower inflows and redemptions played a part. "Category net sales being negative due to some redemptions have led to this". Agrees Alok Singh, who heads overall equity & fixed income investment operations for BOI AXA Investment Managers- "Some amount of outflows have happened from gilt and income funds."
A clear idea of what kind of outflows happened in key debt fund segments will be available when AMFI shares the month's data report, which is expected at the end of the first week of June. In April-2016, Gilt funds had seen ₹372 crore of outflows but income funds had racked up ₹31,448 crore of net inflows, as per AMFI data.
Akhil Mittal, Senior Fund Manager, Fixed Income, Tata Asset Management, said: "It seems like inflows in debt funds have slowed in recent times. Uncertainty around possible rate hike by Fed, slight uptick in domestic inflation leading to expectations of delay in rate easing by RBI, volatile currency markets, could be the major reasons that this slowdown can be attributed to. Also, the broader market has remained range bound for a couple of months now. With lack of immediate cues, investors could have held back some of their investments."
Mittal however doesn't see too much reason for worry. "Some categories in debt funds could have seen some redemptions in month of May. But broadly, there doesn't seem to be any major trend or concern. Some shifting across funds / durations could have been one of the investor moves in last month."
Liquidity tightness in the markets also contributed to the net selling. According to Murthy Nagarajan, Head-Fixed Income, Quantum AMC, liquidity in the system tightened during the month of May 2016 as indicated by banks borrowing more than ₹1 lakh crore. Government balance with RBI was around ₹40,000 crore which led to significant tightening of liquidity in the system.
"There was some redemption by banks from the liquid funds. There was also one large investor who has put in a redemption during the month. The total withdrawal was around ₹5000 crore from the duration products of mutual funds," Nagarajan added.