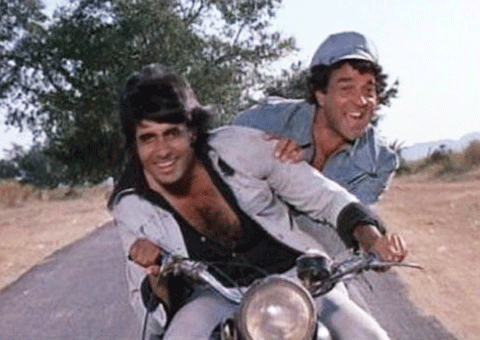 By the time you read this column, the Shah Rukh Khan starrer Fan would have already hit the theatres. Chances are you would have heard that the film has done a business of ₹100 crore.
In fact, if you are the kind who follows Hindi cinema, or Bollywood, regularly, you would know that the ₹100 crore number is really important these days. A film hasn't really arrived unless it does a business of ₹100 crore.
But does this ₹100 crore really mean much? First and foremost, the budget of almost all Hindi films is not known in the public domain. So there is really no way of knowing if the film which supposedly does a business of ₹100 crore or more is actually a profitable investment. And if it is making money, how much money is it making? Further, what is the return on investment for the movie. If a movie with a budget of ₹12 crore makes ₹82 crore, it is a very successful movie, even though it does not do a business of ₹100 crore. And it is a much bigger deal than a movie with a budget of ₹100 crore doing a business of ₹200 crore.
But the journalists who cover the film business do not like to get into these details. They are just happy mentioning that the film did a business of more than ₹100 crore (and more than ₹200 crore in some cases).
In the recent past many movies like Neerja, Pyar Ka Punchnama 2 and Talvar, have done very well, despite earning nowhere near the coveted ₹100 crore. But given their low budgets, they had a very good return on investment.
Also, reporting on the total amount of business done by a Hindi film never seems to take inflation into account. This seems to be a problem even in Hollywood. As Charles Wheelan writes in Naked Economics: Undressing the Dismal Science, "Hollywood is an egregious offender, proclaiming summer after summer that some mediocre film has set a new box-office record. Comparing gross receipts in 2010 to gross receipts in 1970 or 1950 is a silly exercise unless they are adjusted for inflation. A ticket to Gone with the Wind cost 19 cents. A ticket to Dude, Where's My Car? cost $10. Of course, the gross receipts are going to look big by comparison." Dude, Where's My Car? was released in 2000.
Wheelan further elaborates on this point in his book Naked Statistics: Stripping the Dread from the Data, "Hollywood studios (and the journalists who report on them) merely use nominal figures, which make recent movies look successful largely because ticket prices are higher now than they were ten, twenty or fifty years ago... The most accurate way to compare commercial success over time would be to adjust ticket receipts for inflation."
As Wheelan further writes: "Hollywood studios may be the most egregiously oblivious to the distortions caused by inflation when comparing figures at different points of time-and deliberately so."
This is as valid for Bollywood as it is for Hollywood. Let's take the case of Sholay, which was released in August 1975. If we were to compare the nominal collections of the movie back then to the collections that some of bigger blockbusters make these days, it will seem like peanuts. But is that the right way to go about it?
As Diptakirti Chaudhuri writes in Written by Salim-Javed: The Story of Hindi Cinema's Greatest Screenwriters, "In the first run, Ramesh Sippy [the director of Sholay's] estimates Sholay made a staggering ₹25 crore. To put this in perspective, it made more than eight times the production cost-which was the highest ever at that time."
How does this number look if we were to take inflation into account? Chaudhuri estimates the prices have gone up 18 times since 1975. This "would put just the domestic gross collection of Sholay at ₹450 crores." How many movies have achieved this in this day and age? As Chaudhuri writes, "Till September 2015, only a handful of films-PK, Bajrangi Bhaijaan, Dhoom 3, Chennai Express-have crossed ₹400 crore globally. Adjusted to inflation, Sholay did that kind of business in India alone."
Hence, inflation really changes the entire thing. Also, it needs to pointed out that ticket prices, at least in multiplexes have risen much faster over the years than the rate of inflation. This also helps in movies collecting more money in nominal terms than they used to in the past.
Another issue that needs to be pointed out here is that most movies now make their money in the first three days of their release. Given this, in some cases, the marketing blitzkrieg around a movie before it releases is so huge that people end up wanting to watch the movie during the first weekend.
The producers cash in on this phenomenon by releasing a huge number of prints of the movie. This ensures that anyone who wants to watch the movie ends up watching it. In many cases, even though the movie is trashy, the producers end up recovering their money and also make a profit.
Nevertheless, this strategy doesn't always work. A good example of this is Anurag Kashyap's magnum opus Bombay Velvet, which, despite a huge marketing campaign, barely managed to do any business. The next time you see a Bollywood film claiming to do a business of ₹100 crore, do keep these points in mind.
Vivek Kaul is the author of Easy Money. He can be reached at [email protected] mailto:[email protected]
This column appeared in the May 2016 Issue of Mutual Fund Insight.