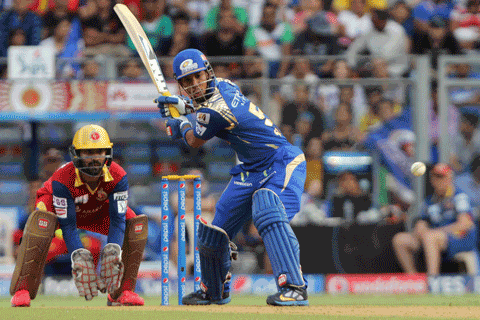 The auction of players in the Indian Premier League (IPL) T20 cricket tournament always throws up some interesting results. This time around, the auctions happened in early February and were no different from past years, with several uncapped players, who had played no international cricket and in some cases very little first-class cricket, getting bought for a lot of money.
Take the case of Murugan Ashwin, a 25-year-old leg-spin bowler from Tamil Nadu, who had only played very few first-class matches before the auction. His base price was ₹10 lakh and he was finally picked up for a price of ₹4.5 crore by the Rising Pune Supergiants team.
Why did someone with so little experience get picked up at such a high price? The recency effect was at work, with the recent performances of the players being given more weight by the team managements looking to pick up players. Ashwin had performed very well in the Syed Mushtaq Ali trophy, which is the name of the domestic T20 competition, getting a wicket every fourteen balls.
The recency effect benefitted several other players as well. Rishabh Pant, the wicket-keeper of the India under-19 cricket team got sold for ₹1.9 crore to the Delhi Daredevils team. His performance in the under-19 cricket world cup was probably top of the mind recall for various cricket teams. Pant had smashed 78 runs in 24 balls a few days before the auction.
In fact, in Ashwin's case his performance in Syed Mushtaq Ali trophy was noticed by several scouts and this led to a bidding driving up his price to ₹4.5 crore. Scouts tend to be very confident about their choices and this bids up prices. It also leads to what economists call the winner's curse.
As Richard Thaler writes in Misbehaving: The Making of Behavioural Economics: "When many bidders compete for the same object, the winner of the auction is often the bidder who most overvalues the object being sold. The same will be true for players."
Thaler, of course, is not writing about cricket but American football. But the logic applies equally to IPL as well. There were other cricketers also who benefitted from the winner's curse. South African all-rounder Chris Morris was sold for ₹7 crore after a bidding war erupted between Rising Pune Supergiants, Mumbai Indians and Kolkata Knight Riders. He was finally bought by Delhi Daredevils. His base price had been set at ₹50 lakh.
Karun Nair, who plays for Karnataka, also benefitted from multiple teams bidding for him. He was finally sold for ₹4 crore, many times his base price of ₹10 lakh. The same stood true for Rajasthan fast bowler Nathu Singh, who was sold for ₹3.2 crore, many times his base price of ₹10 lakh. Deepak Hooda's price also went from his base price of ₹10 lakh to ₹4.2 crore after multiple teams bid for him. Hooda plays as an all-rounder for the Baroda team in the domestic cricket competitions in India. Not only the winner's curse is at work, but there is something known as the false-consensus effect at work as well. And what is this effect? As Thaler writes, "Put basically, people tend to think other people share their preferences. For instance, when the iPhone was new I asked the students in my class two anonymous questions: do you own an iPhone, and what percentage of the class do you think owns an iPhone? Those who owned an iPhone thought that a majority of their classmates did as well, while those who didn't thought iPhone ownership uncommon."
Now how does this apply to the case of auction of players? As Thaler writes, "When a team falls in love with a certain player, they are just sure that every other team shares their view. They try to jump to the head of the line before any other team steals that guy."
K C Cariappa who got bought for ₹2.4 crore by Kolkata Knight Riders in the 2015 auction is an excellent example of the same. He was deemed to be a mystery player and the Kolkata Knight Riders team seemed to have fallen in love with him. In the process, they bid up his price to ₹2.4 crore from a base price of ₹10 lakh.
The thing is that many of these expensively priced players do not perform as well as the teams think they will. The winner's curse takes its toll. An excellent example of this is Yuvraj Singh, who was bought for ₹16 crore and ₹14 crore, respectively, in 2015 and 2014 and did not deliver much bang for the buck.
As Thaler writes, "The winner's curse says that those players will be good, but not as good as the teams picking them think." Not surprisingly, this time around Singh was finally sold at a much lower ₹7 crore, to Sunrisers Hyderabad. Chances are this time he might perform better than the last two years.
The surprising thing is that it is not always performance that gets money in IPL. Take the case of the leg-spinner Pravin Tambe, who has bowled brilliantly over the last few years. In the 2016 auction, he was sold to Gujarat Lions for ₹20 lakh. Given that he is 44, his age goes against him.
Vivek Kaul is the author of Easy Money. He can be reached at [email protected]
This column appeared in the April 2016 Issue of Wealth Insight.