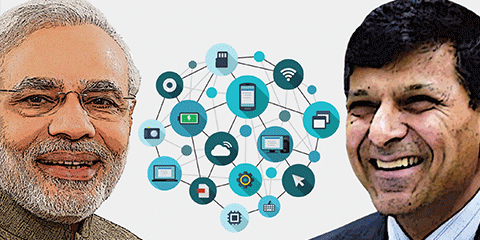 Over the last six quarters, whilst nominal GDP growth has averaged around 10 per cent, EPS growth for the Nifty has been non-existent. Now even revenue growth for Nifty companies has conked off. Understanding this disconnect is central to coming to terms with how the country is changing under a prime minister and a central-bank governor who are radical departures from their predecessors. This correlation breakdown between GDP growth and corporate revenues and earnings for the Nifty 50 companies, in our view, is a reflection that a significant portion of the economic growth pick-up is no longer being exploited by listed large-cap companies. This, in turn, is because India is being fundamentally changed by an inter-play of three dominant forces at work in the country today: Modi, Rajan and technology.
India's three resets: M + R + T
The reset engineered by PM Modi: Modi has engineered three resets: (1) to shift India's savings landscape away from physical assets towards the formal financial system; (2) to disrupt the model of crony capitalism; and (3) to redefine India's subsidy mechanism. These resets in turn are likely to structurally lower inflation while reducing the cost of the factors of production - land, labour and capital. While a structural decline in inflation, corruption and the cost of factors of production are likely to make several businesses viable, at the same time, these are also likely to reduce barriers to entry in most sectors, thus challenging the supernormal profitability of several of the larger incumbents.
Rajan's anti-inflationary policies: The RBI governor, Raghuram Rajan, has succeeded in achieving the following: 1) bringing down inflation, 2) keeping real interest rates positive, 3) reducing currency volatility, 4) changing the rules of the game for creditors through the strategic-debt-restructuring (SDR) regime and the draft bankruptcy code; and 5) rapidly creating new payment banks and small finance banks. Whilst these steps are likely to bring down the cost of capital for borrowers on a sustainable basis, they have also resulted in greater foreign appetite for Indian corporate debt. While this is positive for borrowers in general, it is likely to pose a serious threat to competition and hence profitability of Indian lenders. Secondly, while SDR and the new bankruptcy code will simplify matters for creditors, in the short term, they could pressurise SME borrowers. Finally, the entry of 23 new banks is likely to squeeze the RoEs of existing banks.
The technological revolution: The disruption created by advances in technology, coupled with easy access to low-cost funding, has resulted in the competitive moats around incumbent duopolists/monopolists shrinking. These disruptions may range from the relatively obvious ones (like Flipkart for brick-and-mortar retail and Paytm for financial intermediaries) to more complex ones like e-commerce players with access to vendors' credit history also stepping in to provide financing to these SMEs (such as Ant Financial appears to be doing in China).
The economic impacts of these resets
The cost of borrowing in India is one of the highest amongst emerging markets. Even after adjusting for inflation, the real cost of borrowing remains one of the highest in India. Besides, the incredibly low residential rental yields (2 per cent including taxes and including maintenance cots) suggest that residential real-estate prices in India are amongst the most overvalued in the world. Modi's attack on black money and his willingness to restrain subsidy spending should lower the cost of capital and the cost of land whilst dampening wage inflation. Rajan's focus on infusing competition into the banking system should lower the spread that banks generate over the risk-free rate. All of these forces should also lower the barriers to entry and increase competition.
Investment implications
After peaking at 67 per cent (or 20 replacements in a 30-stock index) in the decade following the 1991 reforms, Sensex churn fell to a low of 27 per cent (just 8 replacements) from 2004 to 2014. Given the economic-political climate described above, we expect a reversion to 50 per cent churn, implying that 15 companies will exit the Sensex in the next decade. So, what sectors will be most impacted?
Banking and financial services commands the highest weight in the Sensex (31 per cent) followed by IT (16 per cent). Whilst incumbents in the banking sector are likely to face earnings pressure from the introduction of new banks, alternative sources of funding, big data-driven dot coms and potential rise of P2P platforms, IT services companies will have to deal with the impact of cloud computing over the next couple of years.
Further, in sectors traditionally underpinned by crony capitalism - oil and gas, engineering and construction, metals and mining, telecom, utilities, infrastructure - Modi's unwillingness to let the traditional rent-seeking model operate in New Delhi means that growth prospects will stay muted at best in these sectors, which cumulatively account for 21 per cent of the Sensex.
In total, therefore, for at least two-third of the Sensex constituents, the Modi + Rajan + technology reset implies structural pressure on EPS growth, which for the Sensex will be in low single digits in FY16 and, at best, in high single digits in FY17. This in turn implies that, barring a miraculous re-rating of the Sensex's P/E, Sensex returns will be in single digits over the next six quarters.
Saurabh Mukherjea is CEO - Institutional Equities at Ambit Capital and the author of Gurus of Chaos: Modern India's Money Masters.
This column appeared in the February 2016 Issue of Wealth Insight.