After the big-bang performance of 2014, the equity market has given dismal returns in 2015. Neelesh Surana, Head of Equity at Mirae Asset, tells Aarati Krishnan the reason for the underperformance of equity markets and the outlook for the future, along with the potential triggers for the market in 2016.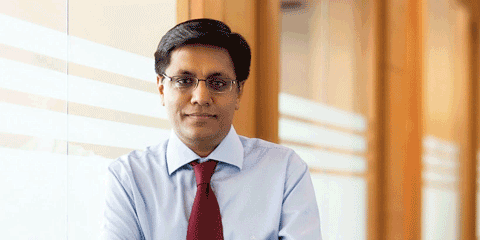 Equity-market returns have largely disappointed in 2015, with the Nifty and the Sensex down 5-6 per cent and large-cap funds also losing value. Mid- and small-cap stocks and funds with exposure to them seem to have fared better. Can you explain why? And will this change in 2016?
Yes, Indian equities didn't perform because earnings of the larger companies have disappointed. There has also been selling by foreign investors across all emerging markets, including India. More of the FII holdings are in large-cap companies. So, these two reasons have led to large-cap underperformance, while mid caps have been doing relatively well. From here on, as a basket, large caps are no doubt cheap. But that doesn't mean all mid caps will underperform. I think you will have selective performance from mid caps. Yes, the easy money is no longer available in mid caps. There can be sudden casualties because the valuations of mid caps on a relative basis don't offer much margin of safety today. But I think we can have selective cases where earnings growth and business prospects are good. But yes, large caps are certainly cheaper after having underperformed.
The overall earnings picture still looks disappointing for the Sensex and the Nifty companies. But how much of this is due to the commodity pack? If you remove that, is growth coming back?
Yes, you're right. Commodities can again be separated into two buckets - oil and metals. So, if we take the current assumptions, then both the sectors have problems in terms of earnings and they do mar the overall earnings numbers. Let's say if you look at the next fiscal year, FY17, then we would estimate the corporate earnings growth to range from 15 to 20 per cent. Now, if this looks like a big range, most of that 5 per cent variation will come from the commodity sector. In commodity companies, modelling earnings is not easy. So, whether you assume oil prices to be at $40 or $45 can make a huge difference to the profits of oil companies. The same goes for steel players or non-ferrous metals. But excluding oil and metals, the earnings trajectory should be around 15 per cent. Including them it could go to 20 per cent. But if commodity prices are at the current levels, then there you need to shave off around 5 per cent. But there are caveats to that. One is that most fund portfolios are not skewed towards commodities. So, the underlying earnings growth should recover over the next few quarters for them.
So, is the profit growth for fund portfolios already improving? Or do you expect it in the future?
It is expected to happen in the future. Again it is very business specific within a sector. Let's say if you look at banking, you have retail-oriented private banks. Even if credit growth is 8 per cent, they are chugging along at 15-17 per cent. That piece is intact; it cannot get more robust. But corporate-oriented banks will see a change depending on how the NPA scenario changes. Why I think the overall earnings improvement will take a couple of quarters is because the investment cycle would take time to recover. On consumption though, it is gaining traction, mainly in the urban consumption space. That should certainly improve with the pass-through of lower interest rates, benign inflation, the Seventh Pay Commission and so on. Growth is close to troughing out. But it is very difficult to pinpoint in which quarter it would begin to improve.
Commodity prices are falling quite sharply. Is India Inc able to pocket those input-cost savings and expand profits?
A generic view would not be right because in most businesses it depends on what the competitive scenario is like. In most cases, the firm can pocket the gains for a few quarters, but on a longer-term basis, a company cannot pocket the gains unless its competitive position is very strong. I would say in businesses like FMCG and in most of the B2C businesses, they would retain the margins for a long period of time; others would not.
The translation of input-cost savings into profits happens in a very few cases. There is definitely a system-wide margin expansion. The effect of margin expansion is much more in mid-sized companies which are consumers commodities. A lot of the equity-fund managers seem to be chasing quality stocks, companies with high ROI, margins, etc. Is this pack overheated?
It's a bit tricky because, yes, everyone uses some basic filters of ROI and growth. So, as you rightly said, there is a pocket of over-valuation in those quality names. But in the last few months, we have seen some of the quality names also correct. You have to draw a line that you can't buy quality at any price. This is a very stock-specific call. You have to make sure that whatever valuation you're paying, the expected growth more than justifies it. Otherwise, there is no margin of safety. So, in fact, in the quality market, you were not taking a risk on cash flows, ROI, etc., but there was a valuation risk you were taking. Now, there can be a time-wise correction and a price correction in some quality names. I think going forward, we can't paint all quality stocks with the same brush. Let's say if I have a business which has a 25 per cent ROI and a 20 per cent growth rate and another that has an 18 per cent ROI and say a 15 per cent growth rate, both meet all the filters. But if the second firm is at a lower P/E, then I would tend to invest in it.
We have seen active equity funds outperform their benchmarks by large margins in this rally. Large-cap funds have outperformed by 5-6 percent points and mid-cap funds by 15-20 percent points. How do you explain this?
You're right that the degree of outperformance is very high. Basically, in large caps, the benchmarks have been skewed towards certain names and they have underperformed. So, fund managers have taken the call that till the time the earnings-growth trajectory is a bit fluid, they will steer clear of the stocks where earnings visibility is weak. This is even if valuations for the other stocks are not so cheap. So, I think it has more to do with some of the heavyweights in the benchmark not doing well. But in the case of mid caps, we have seen real divergence in profits and stock returns. There has been a lot of divergence not only between sectors but also company-wise within each sector. In the last seven-eight years, I have never seen so much divergence.
Do you see signs of an economic recovery, with the Centre pushing through some reforms on discoms, power and so on?
The up-cycle hinges on two-three trends. One, in some sectors, there are serious efforts to invest by the government. We see investments happening in the power sector, in railways and so on. Secondly, in the entire consumption space, things have been improving. We also see a trend of higher financial savings. Thirdly, lower interest rates can be a trigger. Out of the 125 basis points cut by the RBI, only 75 basis points or so has been passed on. There is already some amount of transmission left from the previous cuts. Hopefully with the new base rates, we can see a transmission of another 50 basis points. These three factors can act as positive triggers. Apart from this, don't forget we have a very favourable base effect. We have had three bad seasons of agriculture. Next year, even if the monsoon is just normal, growth will be better. On the consumption side, we will get multiple kickers from rates, the Pay Commission and better agri growth. I think all these put together should result in earnings reverting back to normal. We are also seeing a very unusual scenario where real growth is slightly higher than nominal growth, which should revert to mean.
Financials make up a fourth of the market cap and this sector has underperformed badly in the last one year. Do you see prospects for recovery in banks/financials?
The challenges for the sector start from poor system-wide credit growth. This is a function of the poor nominal growth we are seeing. The competitive scenario, in terms of the shrinking lending spread, is also impacting banks. Secondly, there are bank-specific issues like NPAs. That is being sorted out through a bank-holding company, etc. These two factors put together should help. Third, financials, being the largest-most liquid sector in the Indian market, have been highly impacted by FII selling ahead of the Fed hike. As flows pick up, they should also help the sector.
This interview appeared in the February 2016 Issue of Mutual Fund Insight.