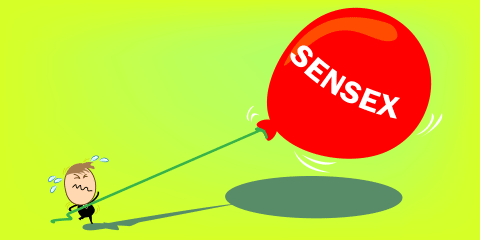 It is a common belief that Sensex companies, being giants in their respective fields, report results that are amongst the best of India Inc's. That is a misconception. Around 40 per cent of Sensex companies saw their earnings fall in the last one year. Sensex earnings have declined for the fourth consecutive quarter. This scenario has not played out since June 2011 (see the chart below).

The main culprit? Around 65 per cent of the cut in Sensex FY16 estimated earnings, says Axis Capital, is due to Tata Motors and commodity-oriented companies. In terms of sectors, auto has led the decline in earnings estimates (Tata Motors is in the forefront again), followed by metals, oil, banking, engineering and FMCG. The three saving graces - telecom, IT and power - too have reported a cut in FY16 earnings, but their cuts are in the single digits.
Twelve out of the 30 Sensex companies reported a fall in earnings in Q2 FY16 (see the table). The biggest contributor to the decline in Sensex earnings was Tata Motors. The Tianjin port blast in China, in August this year, damaged 5,800 vehicles belonging to Jaguar Land Rover (JLR), a subsidiary of Tata Motors. The company had to take a one-time loss of ₹2,493 crore on account of this.
The fall in the prices of commodities and metals burnt Tata Steel, Vedanta and Hindalco. Tata Steel struggles with its European assets. Vedanta took a 41 per cent hit in its bottom line on steel price woes, while Hindalco reeled from crashing aluminium prices; its aluminium EBIT collapsed 91 per cent.
Sun's Ranbaxy consolidation continues. The company struggled with lower sales, supply constraints and currency fluctuations, resulting in a net profit fall of 46 per cent (YoY) in Q2.
The country's largest engineering company, L&T finds itself in the middle of a slowdown. It cut its order inflow guidance from 15 per cent to 5-7 per cent for FY16 after the poor show in the first half of this year.
Other Sensex companies, like Hero MotoCorp, Hindustan Unilever, ITC and M&M, reported either marginal gains or losses in their earnings growth.