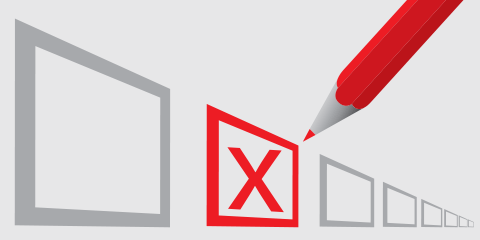 'The Eliminator' sounds like a threatening name, something like the Terminator, bringing up visions of a snarling Arnold Schwarzenegger. However, this column is entirely about the Eliminators, or rather about what remains after the Eliminators have done their job.
At Value Research, we've always promoted an approach to investing that is mostly driven by numbers and a sliver of subjective judgement to draw the final conclusions, so to speak. This is an approach that would appear to be very different from the news-and-noise-driven investing that seems to be generally promoted in the media.
Look at the news flow in the last few weeks. All market- and investment-related news coverage was entirely about the impending interest-rate hike by the US Federal Reserve. With this long-anticipated turnaround on interest rates behind us, it's clear that one should have been sanguine about its immediate effects on the financial markets. Precious little happened, and whatever did was just a weak version of whatever had been predicted. Dire predictions of immediate collapse were belied around the globe, except in assets like US bonds, which have a direct relationship with US interest rates.
It was a far cry from the previous episode of this drama, which was played out in 2013, under the title of 'tapering'. At the time, when the then Fed chairman, Ben Bernanke, first hinted at shutting off the flow (the 'tapering'), there was a wave of panic around the world as stocks, bonds and currencies collapsed. The rupee had a torrid time, declining by 21 per cent in four months, its slide being halted only by some emergency measures as well as the soothing presence of Raghuram Rajan, moving into the corner office at the Reserve Bank. Finally, the tapering caper ended only when Bernanke backed off and postponed the taper.
Can anyone make sensible investing decisions in this kind of a roller-coaster atmosphere? Clearly, one can't. The approach one should take is based around four 'Eliminators', which form the first stage of coming up with a list of investable stocks. It takes emotions and various types of cognitive biases out of the process. As a first stage, the eliminators do their job and eliminate the stocks that one should never even consider. Our four eliminators are the Altman Z-Score (a measure to predict solvency issues), the modified C-Score (a measure of the overall financial health of a company), the F-Score (a measure of whether accounts are likely to have been dressed up), and traditional valuation measures, which tell us how overpriced or underpriced a stock is. Together, these form a framework which tells us whether a stock is worth considering or not.
It's important to set your expectations right for this approach. Elimination-based stock selection is a probabilistic, safety-first methodology. Don't point out to us that some stocks that we eliminated did well. However, there is a high probability that the stocks that we eliminate have something wrong with them. If you ignore them, it's highly likely that you will end up with a great set of investments that will make money for you.
The icing on the cake is that these tools are not just for us but for you too. All of them are available on this website, on every stock page.