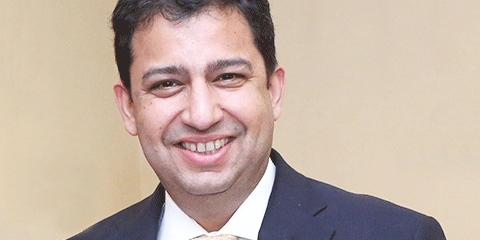 Long-term wealth-creation track record is one of our key strengths. Our team is another major strength. The AMC business is people-centric, and we have consciously built a large, stable and experienced team over the years. For instance, our leadership team - which includes me, deputy CEO, CIO - Equities and CIO - Fixed Income - has been with the company for more than a decade and has grown from within the system.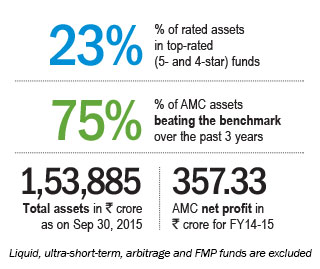 Strong emphasis on processes, robust policies and framework for carrying out critical procedural aspects of the business are other important areas we have focused on.
Our weakness - I would like to put it as an opportunity - is not being dependent on an associate bank and having a diverse distribution strategy through an open architecture.
Challenges ahead
We are very positive about the prospects of the mutual fund industry. We believe the industry assets will be at least `20 lakh crore by 2020. We call it '20-20'. The growth will be led by individual investors. At Reliance Capital Asset Management we are consciously building our capability across various aspects of our business - investment-management capabilities, robust processes, risk-management and compliance practices, our reach and HR capabilities. Our endeavour would be to grow faster than the overall industry.
The challenge from a business perspective would be to set the right expectations for investors, communicate the track record and benefits effectively, and to increase reach and penetration. Despite such a track record, and the several benefits, mutual fund penetration is just about 3 per cent.
From an investment perspective, the nomenclature and categorisation of funds may be leading to some confusions in investors' minds. There is a scope to possibly merge schemes and have uniform nomenclatures at the industry level.
Competition
The opportunity in the mutual fund space is so vast that there is definitely a scope for more players. However, to increase the reach and be of benefit to the industry, new AMCs should target to expand the market by adding new distributors, investors, and not limiting themselves only to the top cities.
Retail reach
We have been taking a lot of initiatives and efforts to increase retail flows. In fact, we have a dedicated channel called Retail Business Development (RBD) in order to grow the retail business. We also have a dedicated training academy called 'EDGE', through which we impart training to our partners and conduct investor-awareness programmes targeted at retail clients, across the country, particularly in small towns. We also take up promotional activities on specific categories to encourage long-term investments. Our efforts in this direction are already bearing fruits. Our overall retail assets are healthy, with our B15 AUM (assets beyond the top 15 cities) amongst the highest in the industry.