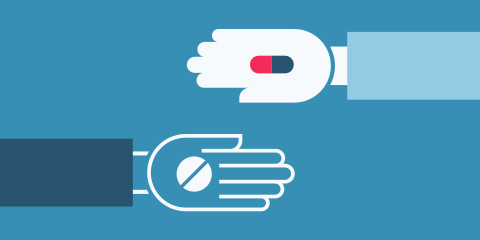 Several mutual-fund investors are under the spell of pharma funds. Suddenly, many investors, enamoured with the chart-topping performance of pharma funds, are asking aloud why they shouldn't bank on these funds to meet their long-term goals. They believe that the outstanding performance of the category over different periods has successfully debunked the theory that sectoral funds are not suitable for average mutual-fund investors. The pharma category is topping the return chart - both in the short and the long term - at the moment. It has returned over 30 per cent in one- and three-year periods and over 20 per cent over five- and ten-year horizons.
Most investment experts, including Value Research, believe that sectoral funds are not meant for average mutual-fund investors because of a variety of reasons. To begin with, the stock market always favours some sectors over the others at any point of time. And these favourite sectors keep changing frequently. An average mutual-fund investor will find it extremely difficult to keep track of the fortunes of various sectors and time the entry and exit in sectoral funds dedicated to particular sectors. That is why sectoral funds are considered suitable only for well-informed investors, who can time their investments. If an investor doesn't get the timing right, she stands to lose her money in these funds. This is because the fund manager in a sectoral fund would be compelled to hold onto his investments in a sector as per his mandate, even when the sector is going through a rough patch.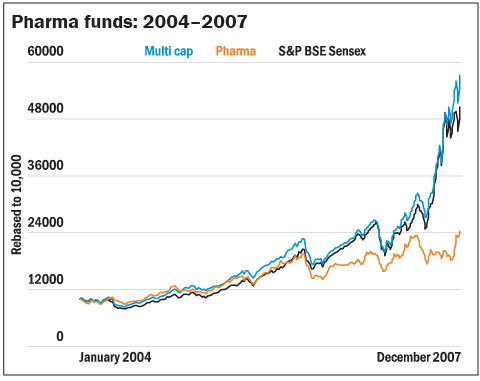 Investors also compromise on diversification and expose themselves to unnecessary risk when they invest in a scheme that invests primarily in a sector like pharma. This could be extremely harmful to investors with a modest corpus as the fortunes of a sectoral fund are closely linked to the performance of a particular sector. Also, it is an erroneous notion that investing in a dedicated sectoral fund is essential to take a meaningful exposure to a particular sector. Several diversified equity mutual funds tend to hold sizeable per cent of stocks in various sectors in their portfolios.
Sure, the recent blinding performance of pharma funds won't support any of these claims. However, as mutual funds say in their advertisements, the past performance may not be replicated in the future. Most of these arguments against sectoral funds are real. For example, pharma funds severely underperformed multi-cap funds between 2004 and 2007. Under no circumstances should you invest only in a sectoral fund, including a pharma one. If you insist on investing in a sector fund, take a small exposure. But be fully aware of the risks involved in investing in a sectoral fund.