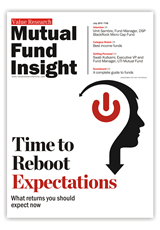 After eighteen months of rip-roaring returns from August 2013 to March 2015, the equity markets have taken a pause. Suddenly, investors seem to have run into a wall of worries.
Are the worries serious, or is this just a pause in a long journey upwards? In the cover story of the July 2015 issue of Mutual Fund Insight, Time to Reboot Expectations, read the views of leading fund managers about why the markets have paused, how they'll get going again and what investors should do meanwhile.
Income funds are often ignored by investors and yet, they offer significant advantages over conventional fixed-income options that investors often choose. Read our Category Watch to understand how to (and how not to) use these funds and where they fit into your portfolio. In the accompanying Fund Analysts' Choice, read detailed analyses of eight such funds chosen by our research team.
Unlike every month, our interview of the month is almost entirely on a specific subject--micro-cap funds. Micro-cap stocks have been much sought after in this bull market and DSP BlackRock Micro Cap Fund has been a chart topper. We speak to Vinit Sambre, Fund Manager, DSP BlackRock on micro caps and how he manages the Micro Cap Fund.
In our 'Getting Personal' feature, we have Swati Kulkarni, Executive Vice President and Fund Manager, UTI Mutual Fund. Swati talks about her two decades as a fund manager and how investing has changed over the years.
As always, in The Plan, our experts have analysed an actual investor's portfolio in detail and suggested a complete restructuring plan. This month, we have a young married investor who has a set of well-defined financial goals in his life. In Buy Sell Hold, our experts answer investment queries from our readers.
In Portfolio Moves, we analyse a fund's portfolio--SBI Magnum Midcap--to analyse the fund manager's actions, and see what worked and what didn't.
And of course, there are regular features like Fund Radar, Fund Diary, regular columns from Aarati Krishnan and Vivek Kaul, as well as our comprehensive Scorecard of Mutual Fund data.
The issue is now on news stands. You can also subscribe to the printed version, or buy a digital subscription (PDF + online reader) instantly. You can also buy a digital copy of this issue without subscribing.