Neelesh Surana speaks to Vibhu Vats about his investment approach for the three funds he manages at Mirae Asset India, viz., India Opportunities Fund, Emerging Bluechip Fund and India-China Consumption Fund.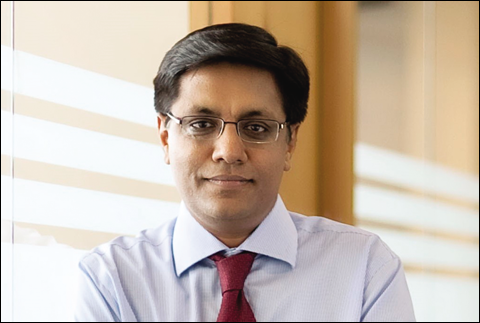 Mirae Asset India Opportunities Fund is the best-performing fund in the large- and mid-cap universe. What would you attribute this stellar performance to?
The fund has completed seven years last month, and it has delivered a fairly consistent performance throughout. Over the seven-year period, the fund has outperformed its benchmark - BSE 200 - by about 8 percentage points CAGR. We believe that the main reason for this outperformance is primarily the stocks we have owned, given the divergence in stock returns within sectors.
In the three funds that you manage, do you have different stock selection criteria or are the same principles conditioned as per a particular fund's requirement?
The basic criterion of selecting stocks is the same across all the three funds. These criteria are about analysing businesses, the management and the stock's valuations. As far as business selection is concerned, we seek sectors where the opportunity size is large so that the growth potential is decent. Also, the core traits should meet the threshold of minimum return on the capital employed. Management analysis, while it is bit qualitative, can be quantified through the return on equity (ROE), capital allocation, past record of corporate governance, etc. As far as valuations are concerned, we look at free cash flows because while we want to buy quality businesses, we don't want to cross the line of buying it at any price. We draw the line at quality at a reasonable price.
When would you say a company is expensive on the valuations front?
There is no simple answer to your question. Whether a stock is expensive or cheap depends on various factors. Basically, free cash flow and growth should justify valuations. The P/E multiple is a function of two parameters - growth and ROE. Typically, when we look at mid caps, the threshold for both ROE and growth should be higher. While we do take a hard look at valuations - and will sell only if the stock is expensive considering its long-term prospects - expensive near-term valuations can be ignored.
Since the last year has seen quite a bit of run-up in large caps and mid caps, do you believe that the market has become overvalued or does the recent correction provide opportunities now?
The recent correction definitely provides a lot more opportunities. Because the recent correction has been led by FII selling, a lot of quality names that were earlier expensive have become reasonable now. Many stocks have corrected by 15-odd per cent or more. So clearly, there are a lot more opportunities than they were a couple of months ago.
Do you have different kinds of selection filters for stocks of different capitalisations?
The basic philosophy behind the selection of all kinds of stocks remains the same, but as far as filters are concerned, mid-cap stocks have much stricter ones. In mid caps, we would typically look for slightly higher ROE and growth rate as compared to a large-cap stock. Otherwise, there is no point in participating in a mid-cap stock because they come with liquidity and other risks. Apart from that, we don't look at companies that are too small. We prefer to invest in stocks that have achieved a basic size of, say, ₹100 crore EBIDTA or ₹100 crore of cash flow. We avoid tiny companies as the idea is not to buy in early stage but to buy evolving mid caps that can eventually migrate to larger mid caps or even large caps in some cases.
How do you decide when is the right time to sell a stock?
A decision to sell is taken on the basis of any one of the following three situations. The first is when the price and value gap is breached. Let's say that our assessment of the value of a stock is X and it has already reached that. We would then sell it or wait for some more time for it to get 10-20-30 per cent higher. But we would sell the stock if it has significantly breached the value gap from a longer-term perspective.
The second situation is when we buy a stock based on certain assumptions and the assumptions go wrong. Businesses are dynamic and many times things change on the external front and the assumptions we had no longer hold true. In such cases, we have a relook at the stock and sell it if necessary. The third situation is when you have to sell a stock if there is another compelling opportunity. For example, if you've bought X but Y has corrected disproportionately and is looking much more attractive, then you try to sell X to buy a position in Y. Typically, this third situation doesn't happen frequently because we like to buy and hold a stock for an extended period of time. Even under the first situation, we don't sell unless there is a significant breach or there is a bubble sort of scenario, where the valuations are high. If the longer- term value of a stock is impaired, then we do have to take the decision to sell it.
Are there any particular stocks or sectors that you prefer to stay away from?
As I mentioned earlier, cash flows and the return on equity should be good. Some businesses typically don't have these traits and we prefer to be underweight on them. For example, we don't have much exposure to real estate companies or construction companies.
Due to Modi government's stress upon Make in India, infrastructure and construction stocks can very well rebound from here. Are you also appraising them that way or are you still avoiding them?
Except for the leaders in the infra and construction space, we have relatively low exposure to these sectors. According to us, many of these businesses don't generate the sort of free cash or return on equity that we would ideally like to have.
As far as your question about the new government is concerned, I think the expected improvement in the economy can be capitalised through other sectors as well. For example, sectors like financials; building materials; many ancillary sectors like logistics, bearing, etc., will also benefit as the economy evolves. These businesses also have superior traits in terms of capital efficiency. Coming back to your earlier question, we tend to typically avoid companies where cash generation is volatile and where there is a tendency to raise money frequently. Over and above this, we also avoid companies where we don't have a comfort level with the management.
Have you made any changes to your stock-selection strategy since the new government has taken over?
By and large, there has been no major change in our strategy. At an overall level, we continue to remain overweight on private banks, pharma, building materials, downstream oil, consumer discretionary, autos, etc.
Does this investment approach remain uniform across all your funds?
Yes, the investment approach remains the same, even though the products are different. The Mirae Asset India Opportunities fund has a large-cap orientation, with at least 75 per cent invested there. On the other hand, the Mirae Asset Emerging Bluechip fund is mid-cap oriented. Mirae Asset India-China Consumption is more of a thematic fund which draws on the theme of consumption sectors in the two economies in the ratio of about 70:30.
Given that Mirae Asset Emerging Blue-chip focuses on mid caps and small caps, how do you manage the volatility that you experience there?
At a stock level, volatility is function of quality of business. From a portfolio perspective, volatility can be managed by effective portfolio construction diversified across sectors and stocks. Risk can further be mitigated by not owning any particular stock in a very disproportionate quantity. In case of Mirae Asset Emerging Bluechip Fund, we also have the leeway of going up to 20-25 per cent in large-cap stocks, which also helps improve liquidity and reduce volatility.
How would you look at the valuations of mid caps, given that they have run up quite a lot in the last year?
I believe that right now there is no significant valuation gap between large caps and mid caps. On a risk-adjusted basis, the large-cap category is looking slightly better from a one- to 1.5-year perspective after the recent correction. This is unlike the case in 2013, when the mid-cap basket was very cheap. Returns in mid caps now will be driven by individual merit of the business.
Can this also be said with respect to large caps because they have also run up quite a lot now?
No, when comparing the two buckets, large caps ought to be slightly at a premium to mid caps because of liquidit and stability of earnings. Also, in many businesses, size has a meaningful difference as these may be sector leaders. For example, in sectors like IT and banking, we have seen that not many mid-cap companies have evolved over the last decade because they have certain inherent disadvantages in terms of size, management bandwidth and the ability to withstand volatility. Typically, other things remaining the same, large-caps should have a better valuation. In that context, the valuation now is slightly in favour of large caps at this point in time. As the differential gap between large caps and mid caps is not there anymore, the way it was in 2013, mid-cap returns will be stock specific.
Do you also have some tactical allocation in your portfolios - some opportunity buys that you think will do well in the short term and contribute to returns?
Since these are actively managed funds, we would look at opportunities that can meaningfully contribute to returns in the short term (less than one year). For example, we can get government offers for sale (OFS) cheap and increase our weight initially. So, if we want to keep 2 per cent weight, but if there is say a 10 per cent discount, we can have 2.2 per cent instead of 2. This is the kind of tactical move that we do take when the opportunity arises.
Talking about the Mirae Asset India-China Consumption fund, China's growth rate is slowing. Is that a concern for you?
No, not really. Even though we say that China's growth rate is slowing, it still remains at a 6.7-7 per cent. Hence, on a global context, China is still growing decently. While the country's economy did well in the past, its government is now trying to transform the growth model to a more sustainable path. It's more consumption-oriented now. This could lead to near-term hiccups in terms of overestimation of production capacities, issues related to corruption and pollution as well as high debt in the public sector, but over the longer-term, they want to focus on exports and infrastructure in a production-related approach. Hence, growth should be seen in the context of where the economy is going. I believe that China has strengths of high forex surplus, low deposit rates and stable inflation. Apart from that, just like in India, there is polarisation of a few sectors because of high-growth businesses. The trades on the sectors may be different; they may not be FMCG and pharma, but many of their consumption-related businesses have done well in the last few years and they have the potential to continue to do well. These sectors are internet-related, gaming-related and auto-related. We do have exposure to these sectors.
Does this mean that consumption-oriented businesses are kind of insulated from the economy?
On a relative basis FMCG is insulated vis-à-vis consumer dicretionary or other sector. However, at a broad level nothing can be totally insulated from the economy. But if the government wants to make consumption a bigger driver of the growth in the economy, then it will be less affected as the overall growth will still be decent. Also, the potential for growth in the long term remains given the population, demo-graphics, trends like urbanisation, etc.
2014 was brilliant for equities, with a number of funds giving great returns. But the market doesn't seem to be going anywhere in 2015. What would you attribute this to? And what would be your strategy in such a market?
As you said, 2014 was brilliant. The year sort of front-loaded returns in anticipation of improvement in macros. While macros have improved, there is momentary disconnect of the same not getting translated in micros like volume growth, earnings. While it is difficult to precisely predict, but 2015 could be a year of consolidation.
Once we take a long-term view (five years and more), equities are attractive, and once should not be dejected by few months/quarters of performance. Reasonable returns over a reasonably long period are possible in India. All investors have to do is to by buy quality businesses at a reasonable price and have reasonable expectations. NAV returns of around 15-18 per cent are possible over the long term.
Do you think rising oil prices and weakening rupee could be concerns for the market?
I don't think the rupee is a serious concern as long as it stays below $75. Even if it were to go up again, things would be different from the last time because the pain in the system is mitigated on account of diesel deregulation.
Would you like to add something for our readers?
I would say that a disciplined way of investing in equities and an earmarked asset allocation are important. Just follow a disciplined approach and have patience. Let the power of compounding work for you and have confidence in equities.