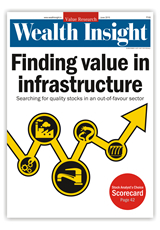 By now, almost every Indian investor dislikes the infrastructure sector. Negative growth, massive debt, huge losses and no end in sight--there's hardly anyone of us who hasn't burnt his fingers in this blighted sector at some point in the last seven-eight years. Even though the NDA government has made progress in reviving infrastructure development, the massive overhang of a mismanaged decade looms over most stocks. And yet, the sector is not entirely without opportunities for investment. In our cover story of the month 'Finding Value in Infrastructure', our team has uncovered five such stocks. Read detailed analyses of the investment case of these investment-worthy infra companies.
Our Interview this month is with Neelesh Surana, Head - Equity of Mirae Mutual Fund, who talks to us about his investment approach to the three very different funds he manages.
In Market Compass, read about the stocks that are quoting at a discount to the total market cap of their listed subsidiaries, banks' non-interest income, and the retail consolidation that's on their way. We also have for you a light-hearted look at what US tech giant Apple's huge cash pile (₹11.6 lakh crore!) really means. Apart from large- and mid-cap stocks that made big moves, we also have an analysis of the stocks in the CNX Commodities index.
In Stock Analysts' Choice, we blow our own trumpet--and show how following Wealth Insight's recommendations would have made you much more money than the Sensex.
In Analyst's Diary, learn something realy new--Warren Buffett's formula of evaluating companies by 'Owner Earnings' instead of conventional measures.
All our columnists are here in this issue, with fresh and insightful comments about a wide range of issues that will affect your investments:
Saurabh Mukherjea tells us about how Narendra Modi's 'resets' will impact some Sensex companies, while Anand Tandon looks ahead and sees alarming side effects of automation. Sanjiv Pandiya writes about the impact of oil, and Devangshu Datta analyses the banking sector and how it's the baromater of the economy. Vivek Kaul writes about the futility of expecting the Efficient Market Hypothesis in spotting bubbles.
And of course, we also have other regular features like Stock Ideas in the issue.
Click here to subscribe to the printed version, or buy a digital subscription (PDF+online reader) instantly. You can also buy a digital copy of this issue without subscribing.