VST Tillers Tractors is a Bangalore-based, VST Group company which manufatures tractors, farming power tillers and diesel engines. Operating majorly in the South Indian market, the company has developed most of the products in collaboration with Mitsubishi Heavy Industries and Mitsubishi Corporation, Japan. There are numerous players in the market, but what makes VST Tillers a different one is its focus on low-power budget tractors and tillers, which target a big chunk of farmers in India who have relatively smaller land sizes.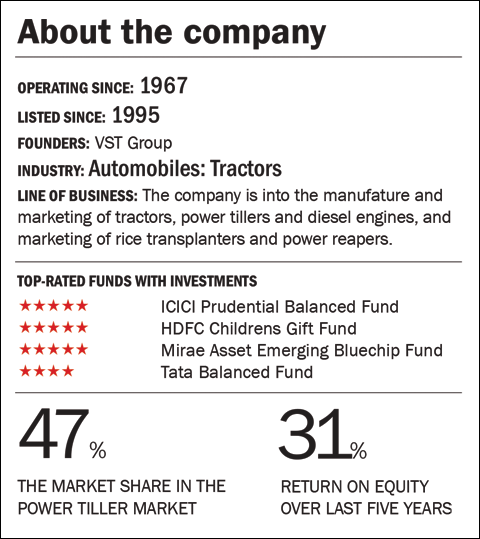 Industry
In India, farmers have a relatively smaller per capita land size as compared to other farming nations. Power tillers are more economically viable for small farming lands. The tiller market in India is picking up pace, with 25 per cent of the tillers needed being imported from China. In the tractor segment, India is the biggest market and manufaturer in the world. The total tractor production in India was 6,19,000 units in 2013, which accounted for 29 per cent of the world production. In the high-power tractor segment, five companies account for 80 per cent of the market share, with M&M being the biggest player.
Strengths
Tractors: Unlike other players in the tractor market, VST Tillers has placed itself in a different segment. It manufactures only light-power tractors of 18.5 and 22 horse power (HP) under the 'Shakti' brand name. Majority of Indian farmers find it very expensive to afford a medium 31-40 HP tractor, and at the same time such tractors are not viable for small-land farming. VST also avoids the market war with its rivals by operating in a different segment and faces a lower elasticity of demand. Moreover, technical collaboration with Mitsubishi gives it an added advantage in branding and marketing its products. VST has a market share of 22 per cent in the below-25 HP tractor segment.
Tillers: The company has a market share of 47 per cent in the power tiller market, which has risen over the period. In this segment, the company has strategically focused only on those regions where landholding is small in India. Thus, VST has a strong presence in the southern, western and northeastern states of India. The farmers in these areas are able to afford power tillers due to huge subsidies provided by the government. The government provides subsidies only on select lists of brands and distributors, among which VST is also listed. Rest of non-subsidised amounts are financed through VST's group company Gove Investments and Finance Limited, an NBFC.
Diesel engines and reapers: Due to overdependence on large tube-well systems and unavailability of electricity, small farmers prefer diesel engines for irrigation. VST has a range of diesel engines to cater to the market. The company is focusing on the high-growth segment of power reapers and rice planters to eliminate manual labour, which is expensive and time-taking.
Growth drivers
Small land sizes and high cost of labour, coupled with rising income levels in rural areas, provide a huge untapped opportunity. India is the largest producer of tractors in the world but still tractor penetration in India is quite low, leaving much more scope for growth.
Traditionally, the tractor market has been dominated by medium 30-40 HP tractors, but in the last three years, with rising needs of mechanisation, demand for below-25 HP tractors has significantly risen. Most of the organised players in the market don't have much presence in this segment, but VST has already positioned itself here. Moreover, below-25 HP tractors are better suited for orchard farming, inter-cultivation, vineyard spraying, horticulture and drip farming.
With improved technology, weather forecasting has improved. Farmers can learn about any erratic weather phenomenon in advance and take steps to safeguard their crops. Small farmers can't afford automated harvesters and manual labour is time-taking. In this scenario, with rise in awareness about automated and affordable mechanised products like rice planters, power reapers have a promising future market. The government is also supporting these devices with subsidies and awareness programmes.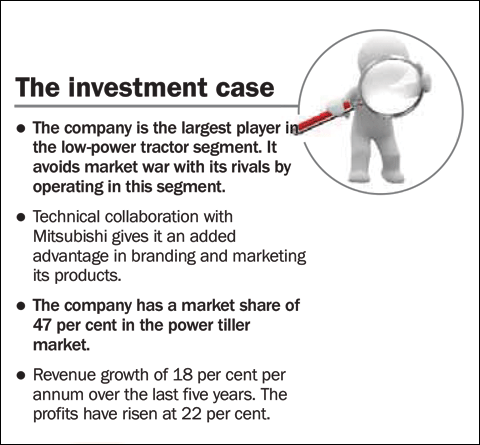 Concerns
The tiller business, which accounts for the majority of VST's revenue, depends hugely on subsidy support from the government. Delays in subsidy payout affects its business, and any major policy changes may affect VST's growth pace. In FY15 the company has witnessed the problem that the states ran out of funds and delayed subsidy payout, thus affecting the revenues adversely.
Company's revenues are directly related to agriculture and adverse weather conditions affect its business. Last year the company commenced production of tractors at its new plant in Hosur to meet rising demand. However, this year, due to floods in Guwahati and Kashmir and cyclone in coastal states, its sales have been impacted. To avoid inventory pile-up, it restricted production at its Hosur and Bangalore plants.
Other big players like M&M and Tafe may start entering into the low-power tractor segment. This may intensify the competition.
Financials
VST has witnessed revenue growth of 18 per cent per annum over the last five years. The profits rose at a healthy 22 per cent. The company is debt-free, with a high return on equity of 31 per cent averaging over last five years and has been generating healthy cash flows to cover working capital requirements. However, the working capital has risen marginally over the years due to lower payable days (credit days). VST should also focus on its debtors to realise cash faster. Company has regularly rewarded the equity holders with healthy dividends, which is a good sign.
Valuation and outlook
VST is trading at a price-to-earnings multiple of 16, which is considerably higher than its historical level of around nine. But still the valuation is reasonable, given its rising scale as compared to its peers. The stock has fallen in the past six months because the company is likely to miss its growth guidance this financial year. However, the fall in the revenue is due to adverse weather conditions and is therefore temporary. With operating yield on enterprise value at 11 per cent, VST Tillers Tractor is a long-term buy.