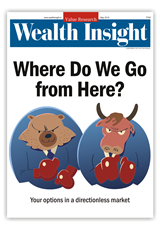 It's easy for investors when the markets have a clear direction. However, that's not the way things are in Indian equities for some time now. After a strong 2014, the markets have gained very little in 2015. The reason are varied, and to continue investing profitably,investors need to understand the what and the why of the stagnant markets. Ourcover story for the May 2015 issue 'Where do we go from here: Your options in a directionless market' takes you through an analysis of the markets, and a strategy to tackle them.
Our Interview this month is with S Krishnakumar, Head - Equity of Sundaram Mutual Fund, who tells us how he manages mid- and small-cap portfolios, something that should be of great interest to all our readers.
In Market Compass, read about the stocks with high debt to a market cap ratio, those who get a lot of government subsidies, companies which have moved up and down the large- to small-cap ladder. Apart from large- and mid-cap stocks that made big moves, we also have an analysis of the stocks in the CNX Finance index.
In Stock Analysts' Choice, we have picked up two stocks from very different sectorsthat have excelled in their space. That includes that rarity in today's world--an internet company that's fabulously profitable.
All our columnists are here in this issue, with fresh and insightful comments about a wide range of issues that will affect your investments:
Anand Tandon tells us about a fascinating case study on telecom companies, and Saurabh Mukherjea analyses how policy-making has changed sharply under Narendra Modi and how that could impact stocks.
Sanjiv Pandiya writes about the various factors of influence that impact our thinking, actions, and decisions in the day-to-day life, and Devangshu Datta examines how much of the current economic recovery is due to low oil prices.
Vivek Kaul writes about the amazingly confusing language of Alan Greenspan, the former US Fed Chief.
And of course, we also have other regular features like Stock Ideas in the issue.
Click here to subscribe to the printed version, or buy a digital subscription (PDF+online reader) instantly. You can also buy a digital copy of this issue without subscribing.