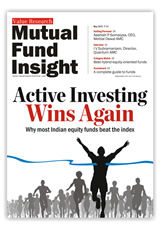 Some investing principles are fundamental principles are fundamental principles, but others are just local, temporary trends that get mistaken for principles. One common example of such a fake principle is the oft-repeated statement 'Index funds always beat actively managed funds', or some variation thereof. Indian mutual fund investors should follow this only at their own risk. To understand why, read 'Active Investing Wins Again', the cover story of Mutual Fund Insight's May 2015 issue which is now on stands.
Hybrid equity-oriented funds (or balanced funds, as they are commonly known) are the perfect choice for a large proportion of investors. Read our Category Watch for the month to understand everything about investing in these funds. In the accompanying Fund Analysts' Choice, read detailed analysis of six balanced funds chosen by our research team.
"If your stocks are not liquid, then the NAV is not a real NAV", says the subject of our interview of the month, I V Subramaniam, Director, Quantum AMC, and CIO, Quantum Advisors. Read about the thought process behind the workings of this most distinctive AMC.
In our 'Getting Personal' feature, get to know Aashish P Somaiyaa, CEO, Motilal Oswal AMC as he talks about the fund business and his personal beliefs and investments.
As always, in The Plan, our experts have analysed an actual investor's portfolio in detail and suggested a complete restructuring plan. In this edition, we encounter a reader who is starting investing sensibly while he is young, but needs the right approach for balancing conflicting needs. In Buy Sell Hold, our experts answer investment queries from our readers.
And of course, there are regular features like Fund Radar, Fund Diary, regular columns from Aarati Krishnan and Vivek Kaul, as well as our comprehensive Scorecard of Mutual Fund data.
The issue is now on news stands. You can also subscribe to the printed version, or buy a digital subscription (PDF + online reader) instantly. You can also buy a digital copy of this issue without subscribing.