Debt is an asset class that offers strategies for almost every interest rate cycle, and it should be part of one's core portfolio, says Lakhshmi Iyer, CIO, Debt, Kotak Mahindra AMC.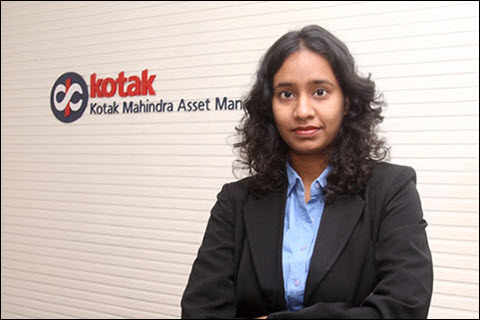 Many investors are focusing on the budget and the equity market at the moment. However, most of them are blissfully unaware that the debt market is also equally poised for a take off. The long term debt schemes have offered double-digit returns in the last year, and they are likely to repeat the feat this year, too. If the RBI starts cutting rate immediately and if its pace surprises the market, investor can hope for windfall gains from income funds. How should investors play the game? Value Research asked Lakshmi Iyer, CIO, Debt & Head of Products, Kotak Mahindra AMC. Excerpts from the interview:
Long term debt schemes have offered double-digit returns in the last year. Do you think these schemes will be able to repeat the performance this year?
Returns in duration are a function of the direction of interest rates. We believe interest rates are headed lower in the coming years, creating a potential for capital gains from long debt schemes. This year, we expect at least 50-75 bps of easing of benchmark rates
The debt market rally was mainly in anticipation of rate cuts last year. Many market participants claim that the market will rally further this year because the actual rate reduction will take place now. What is your view?
Market outcome is a function of anticipated events and also the interest rate environment that lies ahead. We believe the rate easing campaign that has kick started in January 15 is likely to be a gradual one. Given that the act of rate easing is likely to continue in a measured pace, we expect the bond market rally to continue this year as well.
The RBI seems to be moving extremely cautious when it comes to reducing rates. However, the money market participants seem extremely optimistic. Are we in for some disappointments?
The factors which RBI has cited for pursuing monetary easing are inflation and anticipated discipline on the fiscal front. At the current juncture, both seem to be favorable. The CPI inflation continues to be well within the RBIs targeted range and we do believe that the government would want to walk the path of fiscal discipline.
There could be some divergence between market and the RBI in terms of timing, due to which the markets could exhibit near term volatility. However, we remain convinced that the interest rates are headed downwards.
Do you think the pace of unwinding by RBI is crucial? Looking at the euphoria in the market, it seems nothing less than a series of quick cuts would suffice. Please comment.
We expect the RBI to ease interest rates in a gradual manner - not being under any sort of duress. The US is exhibiting mixed trends currently, and the timing of rate hike there is far from certain. Markets too have mellowed down to some extent, and we are witnessing some sort of consolidation in yields now. We rule out quick rates cuts, and believe the markets are likely to sustain momentum even if the pace is not to the markets' liking.
Entry level yield is supposed to be extremely crucial in the debt market. Have most investors already missed the bus, or can they still enter into the market?
I don't think so. If there is conviction that the trajectory for interest rates are headed lower, then one could still look to participate in the India rates story. There is a typical tendency for investors to usually do rear view investments - that is, investing based on past returns. If that attitude is done away with, there is ample scope for participation in the fixed income story. Like any asset class, correction/consolidation is the best time to invest. Also , the investment horizon is equally important while undertaking such investments.
The 10-year yield of the benchmark government security has already fallen by around 130 basis point since last April. Do you think there is further scope for yields to fall drastically?
If the benchmark repo rate is to test 7% levels over the next 12-18m , we believe the 10-year (yield) could test the 7-7.25% levels - those which were seen in May 2014, when the real interest rates were negative. This time, with a visibly lower inflation, and real interest rates tending to positive, the levels could probably sustain. However, this process is likely to be gradual in nature.
Last budget has somewhat dampened the spirit of debt fund investors. Do you think time has come for investors take a relook at the debt schemes. Do you think the focus should be suitable schemes rather than on tax arbitrage opportunities?
Investment appetite in duration funds like gilt and bond to my mind were seldom driven by tax opportunities. This maybe true for FMPs, which has faced some inertia post budget. However, FMp as an asset class typically do not garner AUMS in a scenario where interest rates are expected to head lower. Investors should always assess their investment horizon and also their risk appetite before contemplating investments in any asset class - including fixed income. For instance, if investor is new to mutual funds, then strategies like liquid, ultra short and FMPs are recommended irrespective of the interest rate view. Idea is to give a pleasant experience to the investor - especially to the retail investor, who may not be fully knowledgeable about financial investing.
Most regular investors are still not clued much into debt schemes. For example, many regular investors would be surprised to learn that medium and long term gilt schemes given around 19% returns last year. Do you think mutual fund industry somehow failed to sell such a simple concept to regular investors after all these years?
The issue of financial literacy plagues India even today. MFs schemes do not /cannot assure returns - unlike fixed rate of interest offered by a bank. Therein lies the first hurdle, where efforts are taken to educate the investor on the yield and price relationship. I recall an investor asking me if yields went up which the portfolio suffered a loss !!!
The level of awareness is much better than what I have seen maybe five years back. However, we are still at the tip of the iceberg and there is a long way to go . The good news is that with a mandatory fees (as basis point ) kept aside for investor awareness, there is much more scope today to impart knowledge and equip the investor with relevant tools to take decisions
Are you expecting any positive or negative surprises from the budget? Any advice to investors?
Bond street would keenly look at the fiscal math. If there is adherence to fiscal discipline by and large (which is our expectation, too), there is not much of negative surprises expected.
We would urge investors to look at fixed income suite for products for their various needs. This is an asset class which offers strategies for almost every interest rate cycle. For example, rising interest rate - Fixed maturity plans (FMPS). Or falling interest rates - duration funds like gilt and bond, and the all seasons fund like liquid and ultra short term.
Fixed income investment do not lose capital -unless there is a credit default. Hence, there is case to own fixed income as part of one's core portfolio.