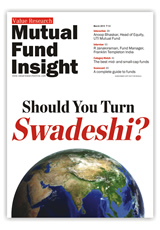 A decade after the government allowed Indian investors to invest in international mutual funds, few of us have much enthusiasm for them. However well foreign markets have done, Indian markets have mostly done better. However, the logic of international diversification is undeniable. Mutual fund investors must allocate some of their money to international funds and the cover story of the March 2015 issue of Mutual Fund Insight shows you how to go about choosing the one best suited for your needs.
Our interview of the month is with R Janakiraman, Fund Manager at Franklin Templeton. Janakiraman, who manages six key equity funds at Franklin, shares his investment approach with our readers and explains what prospects are like going forward.
In Getting Personal, we spend some delightful time with Anoop Bhaskar, Chief Investment Officer at UTI Mutual Fund. Bhaskar, who has been in the business for an eventful 23 years, reveals the modesty and the humour that typify him.
As always, in The Plan, our experts have analysed an actual investor's portfolio in detail and suggested a complete restructuring plan. This time, we tackle a common problem--figuring out post-retirement expenses for someone who hasn't planned ahead carefully. In Buy Sell Hold, our experts answer investment queries from our readers.
And of course, there are regular features like Fund Radar, Fund Diary, Vivek Kaul's fascinating column on Plato and Biryani, as well as our comprehensive Scorecard of Mutual Fund data.
The issue is now on news stands. You can also subscribe to the printed version, or buy a digital subscription (PDF + online reader) instantly. You can also buy a digital copy of this issue without subscribing.