V Shankar, Founder & Board Member - CAMS, tells us what made him get into the mutual fund RTA business when no one even thought of it.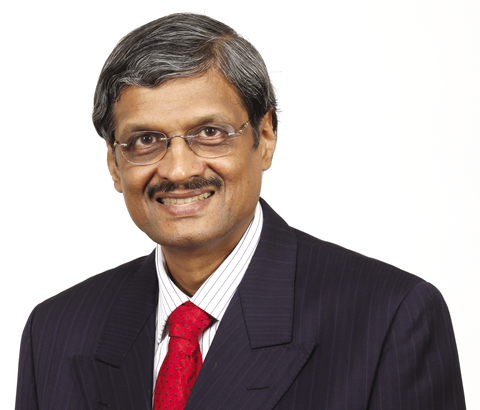 If you are a mutual-fund investor, chances are that you have dealt with CAMS (Computer Age Management Services) at one time or another. Millions of investor requests for fund purchases, dividends, SIPs, switches and redemptions pass through its portals every day.
The largest registrar and transfer agent (RTA) for mutual funds in the country, CAMS services 60 per cent of the industry's assets. The firm was founded by V Shankar. He maintains a low profile, but Value Research managed to catch up with him for a conversation at his office in Chennai.
What made him get into the mutual fund RTA business when no one even thought of it? Shankar explains that it was the unique business proposition of open-end mutual funds and the terrible investor experience with equity RTAs that made him think of the idea.
"My initial career was in sales and marketing. I had the insight then that your longevity in any business depends on your closeness to the customer. Before CAMS was started, there were only equity RTAs. Secondary market transactions were a painful experience for investors with bad deliveries, signature problems and long delays. The problem was systemic but the rap for that went to the RTAs," recalls Shankar. When demat made its debut, the role of the RTAs shifted to primary markets. But once the IPO was done, the investor would be forgotten.
The leaky bucket
But open-ended mutual funds ushered in a completely new concept-you could sell back your units at any time to the AMC. This intrigued Shankar enough to enter the business through CAMS.
"Open-ended mutual funds were a leaky bucket- money came in and went out all the time. This put a great deal of pressure on the manufacturer to sustain good performance. It was as though you were borrowing a car from the manufacturer which you could sell back any day if the vehicle did not give you the mileage! This leakiness made it a very important job to keep the money in the bucket. We felt that being the gateway that delivered superior customer experience could give us a huge advantage. We made a promise that the customer experience in mutual funds would be significantly different from that for shares, PPF, insurance or anything else," says Shankar, passionate on the subject.
The initial years were not easy and Shankar was told that he was being an idiot to quit a good job with Levers to start a mutual fund RTA. "Today, start-ups are well respected, even if they are in the janitorial business. You are defined by the cause and not the business. But when I started out, having a salaried job was the biggest achievement," he says, quite cheerfully.
But if service is critical to mutual funds, is it a good idea to outsource it at all? After all, everyone thinks call centres are the worst thing to happen to customers. Shankar explains that in-house customer service requires senior management time as well as higher costs, which may not be every fund house's cup of tea.
Dealing with the millions
So what proportion of a fund's expense ratio goes to pay the RTA? It is quite modest. Of the annual expenses of about 200 basis points, only 7-8 basis points go to pay RTAs such as CAMS. "What I have learnt in this business is that there is no such thing as a low fee; it can always go lower," Shankar quips.
As an entrepreneur who has waded through masses of data, Shankar obviously loves talking about numbers, so I quiz him about how many mutual fund investors have moved online. While stock market trades are almost entirely online, MF investors still love paper, it appears, with 75-80 per cent of transactions in paper mode. Shankar predicts the real shift will happen when the younger 'digital natives' of today start investing more.
I'm curious to know about the volume of transactions that CAMS handles. When CAMS started, there would be some days with no transactions at all, Shankar explains. But with retail participation in MFs growing exponentially between 2000 and 2007, CAMS was handling 8-10 million transactions a month by 2007! The numbers subsequently fell but have picked up to about 8.5 million recently. About 7 million of those are SIPs and dividends.
Wow! But doesn't that make CAMS' job a very stressful one? It does, he agrees, not just because of the sheer volumes of paper but also because there is little margin for error. Mutual fund transactions, unlike stock transactions, have many variables, yet the RTA can't afford errors or delays. "Every month, CAMS makes in excess of `500,000 crore of payments on behalf of client funds. Even if there are mistakes in a tiny fraction of those transactions, it will be a serious matter. We can't delay transactions either because there is an interest liability on delays," he explains.
So, given that the business seems designed to turn one's hair grey, is he glad to have stepped out of his executive role in CAMS five years ago? He quickly makes it clear that 'there is nothing like one's first child'. While he has stayed on the Board, CAMS has been able to attract marquee investors. National Stock Exchange is now a 45 per cent shareholder in CAMS, while HDFC holds 22 per cent. Shankar has diluted his own stake from 37 to 33 per cent. He explains that he opted to professionalise the firm because he wanted his son, now working at Goldman Sachs, to do his own thing.
Personal investments
Shankar's personal asset allocation isn't aggressive and he is invested 60:40 in favour of debt investments. Unusually, Shankar loves to buy large-cap equities on his own, while he takes his small-cap, mid-cap and sector exposures through mutual funds.
He treats his direct equity investments and mutual funds quite differently. "In my mutual funds I don't even look at the portfolio for 3 years or more. But stocks I like to track more closely, though I do still like to buy quality."
Turning angel
While Shankar has hired an analyst to research his listed securities, he himself spends over 50 per cent of his time vetting startups for angel investing, his new passion.
He experimented with it during his CAMS days, but frankly admits that being an individual angel investor was not a pleasant experience as he would often end up making bad calls. "I am fortunate to be part of an outstanding angel group called The Chennai Angels. When you are part of a network, you have someone or the other in your group who understands every business. You rely on their expertise and judgement to make a call. You also get a large number of opportunities. We got 400 entrepreneurs approaching us this year," he says, adding that he typically invests `15-20 lakh in each startup.
Angel investments are not big money-wise, but he loves them for the ability to learn about new businesses. Recently, he invested in Fourth Partner-a rooftop solar company that allows homes to generate their own power. He is also optimistic about Velvetcase and Cloe-two niche e-commerce companies.
So what does Shankar look for before he decides to write out a cheque for a startup? This question may be of interest to many entrepreneurs! "The one thing that I definitely look for is whether the new business solves some real pain point for consumers. If it doesn't, you can be sure it cannot last," he says, unwittingly explaining why CAMS has beaten all odds to become such a success story in the Indian mutual fund space. After all, it is thanks to CAMS that the investing experience in mutual funds is so pain-free today.