It is said that, sitting on cash in not always the best strategy in equity markets. Such move could easily backfire in surging market conditions. But Atul Kumar, head equity at Quantum Asset Management Company Private Limited feels that, with high valuations it makes sense to wait rather than risk investors money at this time. In an interview with 'Mutual Fund Insight' he says that, 'aggressive cash calls' has nothing to do with the perception of the market, its just call on the fundamental of individual stock. Transcripts.....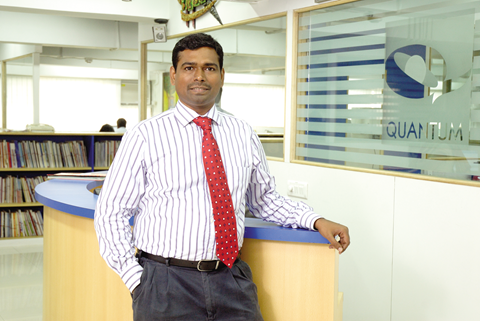 Haven't you taken big risk by sitting on huge cash position at this point of time in your equity schemes? If not, why?
Currently cash holding for Quantum Long Term Equity fund is around 30 per cent and it's the highest since launch of the fund. I would like to say that, we are primarily a bottom up stock picker. Since elections results have declared in May, markets have jumped sharply. Since then, we have lightened our exposure in sectors like industrials, capital goods and financials, only because we are not comfortable with current valuations. In our case it's totally a bottom up investment process we do not take 'cash calls' given a chance if valuations are as per our level we would like to invest 100 per cent in the market. But at this point of time the valuations do not look favorable for us.
I would say that, if things look heated up than in our understanding it is better to wait for correction rather than enter the market at such high valuations. It could happen that given the momentum markets could continue rising but if the earnings are not keeping pace I think that point of time you may have a correction. Given our bend towards hunting value, it makes sense to wait rather than risk investors money at this time. Even if you look back at the history of the fund, it has underperformed for one year when it was launched in 2006. We are in a situation where there is no dearth of liquidity and in such scenario markets might remain very volatile. It is possible that in the high liquidity rising markets we could underperform for some time and we are ready to face the underperformance. But even if you look at performance in the past few months, our call of sitting on cash has not impacted the performance of the fund. We could outperform only because we had picked good quality stocks.
So yes, our fund might have some impact but we don't mind sitting in cash because in such momentum all kind of stocks go up and we will not invest unless we are satisfies with the valuations of the stocks which we want to invest in. We would but stocks if they come to out 'internal buy' limits but till now they have not come to that levels and we have not been able to find opportunities in the market. So as a fund house our cash call has nothing to do with the perception of the market, its just call on the fundamental of individual stock.
Given the current situation what will be the investment strategy Quantum Long Term Equity and Quantum Tax Saving Fund?
As a fund house we take long term call and follow bottom up investing approach. We try and stick to our philosophy and process rather than try and change according to the market cycles. So currently as a strategy we will be waiting patiently for correction to re-enter the markets. In the last few months we have seen that, while markets have moved up significantly, there has been no major 'earnings upgrade'. We can't have a situation where price to earnings (P/E) shows improvement and not the earnings upgrade. As I said we look for comfort in valuations and earnings number before entering the market. Our strategy involves looking at every stock and sector in different manner. For example I may want to value fast moving consumer goods (FMCG) stocks I would buy it for 15-18 times PE. But it would not remain a template for other sectors and stocks as matrix can change according to stocks. Our main aim is to invest in high quality companies with sound management and right valuations. We don't care too much of the market environment and its short term impact on our portfolio.
Which will be the key factors that you would be looking to reduce your cash exposure?
There are two aspects, one is comfortable valuations and other is earnings upgrade. But surely if there is some kind of healthy correction in the market we would like to invest again in equities. Having said that, we are unaware of the movements of the markets an if it remain sideways we will not deviate from our process and disciplines. If we are not getting the opportunity we are happy to sit on cash as long as we are not comfortable with the valuations.
Why are you having 18 per cent cash levels in Quantum Tax Saving Fund and over 30 per cent cash holding in Quantum Long Term Equity Fund?
Yes, it's true that both the schemes have different cash positions given that strategy and portfolio remains same for both the schemes. It is because regulations don't allow any equity linked saving scheme (ELSS) to hold more than 20 percent in cash and that is the reason we have decided it to limit the cash position to 18 percent. If it wouldn't be the legal requirement we would have also hiked it to over 30 per cent (Laughs) even in our tax saving scheme.
What is your view on current stock valuations and medium term outlook for markets?
If one looks at the valuations of Bombay Stock Exchange (BSE) it has remained in the range of 16-17 times. We believe that current price to earnings (P/E) are slightly on the expensive side. However over the longer time frame we remain quite optimistic about Indian growth story. We are firm believer that, India can achieve 6.5-7 per cent of GDP growth for many years to come and this provides a big opportunity to invest in equities. Though with rising equity markets there will be time when valuations would turned too high on the back of easy liquidity. But overall we are quite bullish on India.