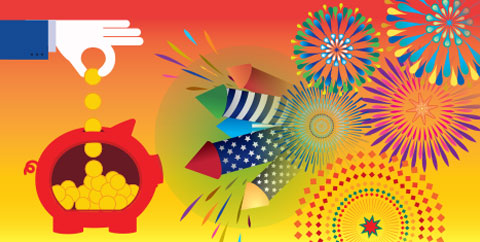 As I and many of my friends unwrapped our brand new smartphones acquired in the recent Flipkart/Snapdeal/Amazon mega-sales, it suddenly struck me. When and how did good old Diwali become a festival of big spending?
Not so long ago, after all, Diwali used to be a festival that celebrated wealth creation. Ordinary folk welcomed the Goddess Lakshmi into their homes on Dhanteras. They acquired gold coins, silver utensils or jewellery as a harbinger of the prosperity that they hoped to enjoy for the rest of the year. On the stock market, the Muhurat trading session was an occasion for investors to add to their holdings of their favourite bluechip stocks.
Yes, Diwali was always an occasion for buying clothes or sweets and visiting friends. But even as the visits and sweets have dwindled (thanks to Whatsapp, SMS and diabetes), the sheer amount of spending that the average family indulges in on Diwali week has, I'm sure, expanded by leaps and bounds.
First, home decor and furniture makers hard-sold the idea that your Diwali isn't complete until you completely repaint your home and give it the complete makeover with brand new furnishings and furniture, ahead of the festivities. Then, it was the makers of LED televisions, side-by-side refrigerators, smart washing machines and what not, tempting you to 'upgrade' to that newer, better model by availing of 'fabulous' discounts during Diwali week.
Now, aggressive online retailers have jumped on this bandwagon, determined to convince you that no celebration is complete unless one acquires the latest fingerprint-and-gesture-sensitive smartphone (after all, touchscreens are so last year) or splurges a tenth of one's annual earnings on the latest iPhone. With everything from handcrafted diyas to Gucci bags now available online, the temptation to click on everything you see and just pay later, has grown too strong to resist.
In fact, by taking all the pain out of the Diwali shopping experience - the choc-a-bloc streets, the shortage of parking spaces and the skirmishes in the stores - e-commerce has made it quite convenient to shop till one goes broke. It is certainly easy today to wipe out many months' earnings on a single-hour's shopping binge on the Internet.
Let's not forget that most of the stuff that we're buying today in the festival sales are 'assets' that tend to lose their value in the blink of an eye. We all know that the ₹50,000 smartphone we bought today will be worth only one-fifth that sum, a few months down the line when the next upgrade comes up. We also know that the white goods that we are 'upgrading' to, will fetch only scrap value if we try sell them even the very next month. Yet, we can't seem to give up the urge to own all this.
So why don't all we savers make a resolution this Diwali? For every spending decision we make on a gadget, phone or white good, maybe we should make an equivalent investing decision, setting aside the same sum towards say, a mutual fund. So, if I've just splurged ₹30,000 shopping at Amazon, I should invest an equal sum of ₹30,000 in a liquid fund, to be transferred systematically to an equity fund over the next six months. Over time, this would have two positive implications for one's wealth.
For one, however tempting the Big Billion or Diwali Dhamaka offers may be, one would be forced to curtail one's frivolous spending to just half the amount that one can spare. Two, the sum that goes into this Diwali Fund can help supplement our regular savings from other sources and help build up that education or retirement kitty over the long term. Let's cut back on the splurging and give the goddess of wealth her due this Diwali.