When direct plans came into being from January 2013, they were expected to find takers among investor who directly dealt with a mutual fund without going through an intermediary distributor. Direct plans, have failed to hit the right chord with equity fund investors with ₹8,000 crore of the equity asset base from the ₹2 lakh crore finding way through direct investments as of June 2014.
In contrast, and understandably so, debt funds has seen investors take to direct plan with a flurry. The direct plans under debt funds account for over ₹3 lakh crore, which is almost half of the total debt fund asset base.
The shift towards direct plans by institutional investors, who predominantly invest in debt investments has been on the rise with direct plans constituting 35 per cent of the industry's AAUM. While the benefit from investing in direct plans is available to all, they have not found takers among many retail investors, who still need some hand holding before they can manage their investments themselves.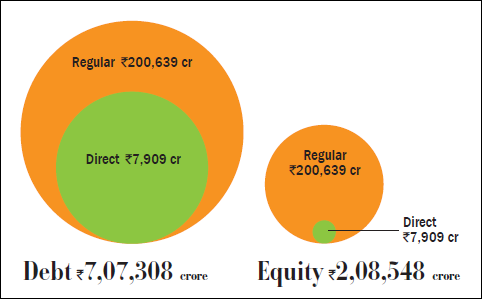 One of the main reasons for retail investors not taking to direct plans is the lack of financial awareness, which is an impediment to direct investing. Retail investors do need help with fund selection to invest. Apart from that, investing directly through the AMCs is definitely not hassle free, which is where intermediaries come in to fill the gap. Another deterrent for the growth in these schemes is the exit load charged by AMCs; as of now every switch is considered a redemption and a fresh purchase, when one moves from a regular plan to the direct plan. However, the reverse is not treated in the same vein, where no exit load is charged on a switch when moving from direct plans to regular plans.
Despite being an attractive option, the fate of equity direct plans still looms. Though direct plans have increased at a snail's pace since their launch, they are still a long way from being the first choice route to investing in mutual funds. While investors surely stand to gain by putting their money in these plans as the compounding effect will translate into a substantial higher return for them in the long term, the delay will only eat into the possible gains that they otherwise could have by taking control of their investments.