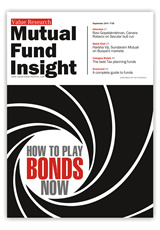 The September 2014 issue of Mutual Fund Insight: How to Play Bonds Now is available. After the harsher tax treatment that Budget 2014 had brought for debt funds, investors need to take a fresh look at the logic of these funds. Our cover story for the issue examines all aspects of these funds and presents why and for what reasons you should continue to invest in these funds, and the circumstances in which you shouldn't.
Our interview of the month is with Ravi Gopalakrishnan, Head Equities, Canara Robeco. In an exclusive conversation, he looks ahead to a positive phase where a stable government at the centre will start showing results.
With an increased allowance for 80C investments in the budget, Tax Planning funds have gained new importance. Our Category Watch for the month examines these funds, while the accompanying Fund Analyst's Choice takes a detailed look at eight selected tax-savers that you can invest in.
As always, in The Plan, our experts have analysed an actual investor's portfolio in detail and suggested a complete restructuring plan. In Buy Sell Hold, our experts answer investment queries from our readers.
And of course, there are regular features like Fund Radar, Fund Diary, and columns from writers like Vivek Kaul, Sanjeev Pandiya, Jay Dubashi and Paranjoy Guha Thakurta and our comprehensive Scorecard of Mutual Fund data.
The issue is now on news stands. You can also subscribe to the printed version, or buy a digital subscription (PDF + online reader) instantly. You can also buy a digital copy of this issue without subscribing.