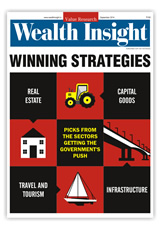 The elections are over and the new government has settled in. The general turnaround of the economy part, there are specific sectors that we can expect to do well because of the government's policies.
Winning Strategies: Picks From Sectors Getting The Government's Push is the cover theme of the latest, August 2014 issue of Wealth Insight, which is now on sale. Our analysts identify these sectors and drill down to the actual stocks that will benefit, with a detailed look at eight such stocks.
But that's not all that is special this month. Our Interview of the month is with Bharat Shah, Executive Director, ASK Group. Shah has been a successful fund manager with a distinct style for about two decades now and his comments on the markets' and the economy's future are a treat to read for any investor.
We also have a host of other features for this issue:
Exclusive columns from Dhirendra Kumar, Saurabh Mukherjea, Vivek Kaul, Devangshu Datta, Sanjeev Pandiya and Anand Tandon.
Regular features like Market Compass, Analyst Diary and Stock Ideas.
The issue is now on news stands. You can also subscribe to the printed version, or buy a digital subscription (PDF + online reader) instantly. You can also buy a digital copy of this issue without subscribing.