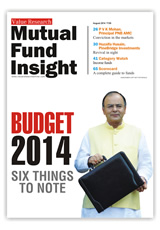 The Budget 2014 special issue of Mutual Fund Insight is now available.
For mutual fund investors, the NDA Government's first budget has a dual personality. Overall, the budget is good for growth and sets a clear direction forward for a revival of the economy. However, the increased taxation on non-equity funds means that many mutual fund investors will get lower returns from their investments. Our analysis tells you what the budget means for you, what it gets right and what it gets wrong.
We have two exclusive interviews with high-performing fund managers in this issue. Huzaifa Husain, Head - Equities at Pinebridge Mutual Fund discusses the strategy that enables his funds to do well in every kind of market. In Quick Chat, PVK Mohan, Head - Equity at Principal PNB Mutual Fund explains why it is the right time to invest in the markets.
Despite the changed taxation situation, income funds remain the most important bread-and-butter category amongst fixed-income funds. In our Category Watch this month, we analyse all aspects of investing in these funds. In the accompanying Fund Analysts' Choice, read our detailed analyses of six selected income funds.
As always, in The Plan, our experts have analysed an actual investor's portfolio in detail and suggested a complete restructuring plan. In Buy Sell Hold, our experts answer investment queries from our readers.
And of course, there are regular features like Fund Radar, Fund Diary, and columns from writers like Vivek Kaul, Sanjeev Pandiya, Jay Dubashi and Paranjoy Guha Thakurta and our comprehensive Scorecard of Mutual Fund data.
The issue is now on news stands. You can also subscribe to the print and digital editions here, as well as get instant access to digital copy of this issue.