I ran a query in April 2012 to check if there existed any company which had delivered a sequential growth in earning per share for the past 20 quarters (5 years) without any fall. That is when I discovered Amar Remedies and was mesmerised by its performance. Naturally, curiosity set in and I looked in deeper and I analysed its financials. The income statement was very attractive, but the balance sheet and cash flow statements revealed the truth.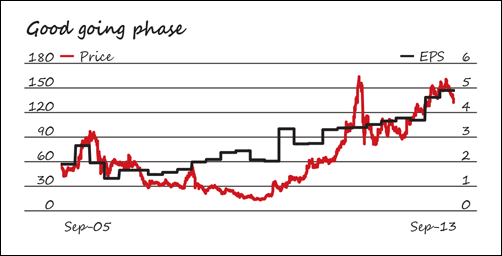 The debtors were growing much faster than the revenues and cash from operating activities was negative. What this meant was that the company was selling on credit and was not realising any cash for the same. This is very fishy, especially when done continuously, which prompted us to flag this stock and we recommended you to stay away from it in May 2012.
Thereafter the earnings and prices plunged down to almost nothing and the company went for liquidation in December 2013. The lesson learnt from this analysis was that just following the income statement without checking the balance sheet and cash flows can be injurious. Based on the same parameters is a list of companies which are somewhat following the same trail, which to say the least is alarming.
The list of companies to stay off