Titan started 30 years ago as a joint venture between the Tata Group and the Tamil Nadu Industrial Development Corporation (TIDCO) to make quartz watches and changed the Indian watch market. Over the years it has created new segments, has entered new business areas and has been successful in all its ventures.
The company ventured into the largely fragmented jewellery market in 1995 with its Tanishq brand. The company ventured into yet another fragmented market with its eyewear offerings under the Titan Eye+ and Dash brands. The company has leveraged its precision engineering manufacturing capabilities by manufacturing components and sub-assemblies for application in automotive and aerospace.
With over 984 retail stores across a carpet area of over 1.3 million sq. ft. Titan has India's largest retail network spanning over 218 towns. In addition the company retails personal accessories such as bags, belts, wallets and most recently perfumes under the Skinn Brand.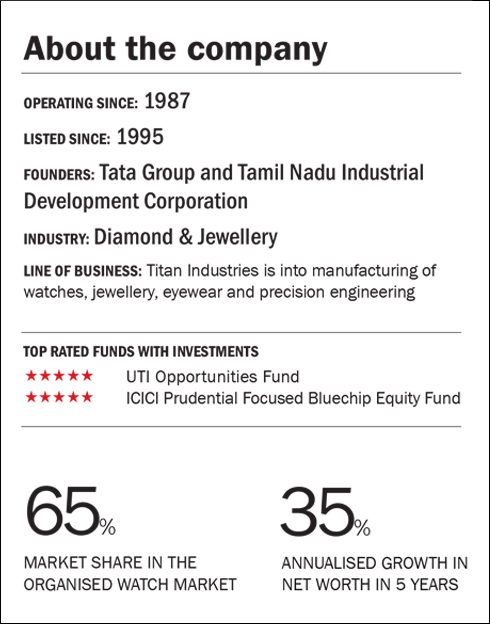 Strengths
Titan featured in our 5th Anniversary edition in July 2011, as a company with moat. The moat creation has happened with the product it deals in and the way it manages the operations. The biggest factor favouring the company is that it is a Tata group company. If in the watch business Titan has established itself as a quality watch maker, in the jewellery business the Tanishq brand has helped it create a business on purity.
Market positioning: Titan has captured the extreme ends of the market through its wide range of brands. Tanishq, Titan and Sonata target older and middle aged audience, while Fastrack is focused on the youth. Manufacturing and distribution through its owned retail store has given the company to maintain a high margin by continuously investing in its supply chain processes and systems. Moreover, given the sector, the company has been operating on negative working capital which further add to the RoE.
In the jewellery business, the company has positioned itself as premium player. The highly trust-driven nature of this business has done wonders for Tanishq, which is also the reason that it has the highest profit margin in the sector, with more than 40 per cent return on equity in FY13.
Management: The company's management has dynamically managed to shift the focus across its business units. This way, it has managed to gain from all the business units than overly depend on one segment. In some ways, the Titan model is to enter a business which is highly fragmented and to position itself as a quality manufacturer targeting at the entire buying class.
Indian jewellery market: India has a never ending demand for gold. Even when gold imports were curbed in FY14, the demand increased with an active grey market coming into play. What it means is that despite the economical and market conditions; demand for gold in India is unlikely to ebb.
Growth drivers
Keeping pace with the latest trend is the major growth driver, such as the high margin diamond jewellery in which the company has ventured with its Zoya brand. The company has maintained its pace with new launches such as Titan Edge, Raga, Tanishq Mia and new product range of perfumes and leather range under the Skinn brand name. Another new area that it has got into under the Fastrack portfolio are helmets to woo young bikers.
Titan recently received approval from the RBI wherein the company can hedge gold in the international market. This will help it save its finance costs and avoid the risk of recording mark-to-market loss. The move will remove the fluctuations in the margins due to volatility in gold prices. Earlier, companies were allowed to hedge from the domestic commodity exchange where limits were imposed. With this new ruling it can further hedge its position.
Due to adverse Balance of Payment the Government of India restricted gold import and banned lease and in FY14 thus bringing pressure on the working capital requirements but as soon as the current account deficit (CAD) starts improving the ban will gradually be lifted as the signs given by the government recently. With the ban going off company will again start operating on the negative working capital, easing the fund requirement and freeing further cash flows.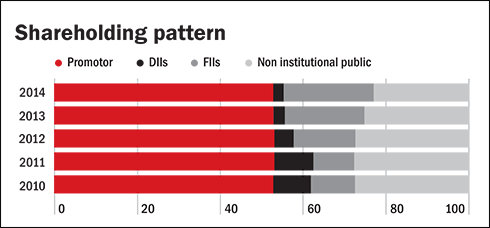 Concerns
The watch segment is shrinking, and the margins in the watch segment has declined over the years and has come down to 11.50 per cent in FY13 from 14 per cent in FY07. Although, CAD is getting better, it could pose threats like ban on gold or lease facility may continue for a long term and escalate the fund requirements for working capital. Likewise, loan for the working capital can further pull back the net margins due to interests. The ban on sale of gold coins have impacted business at the the Gold Plus stores. Adding to the woes, in the absence of the lease facility the company has to pay upfront for buying gold; exposing it to the risk of price volatility. Fluctuating gold prices due to high inflation and uncertain markets are also worrisome. The same holds for the changing fashion trends in the jewellery business.
Quarterly results
| | | | |
| --- | --- | --- | --- |
| Description | Dec-2013 | Sep-2013 | Dec-2012 |
| Net sales (₹cr) | 2650 | 2290 | 2983 |
| Operating profit (₹cr) | 271 | 292 | 305 |
| Net profit (₹cr) | 166 | 187 | 204 |
| EPS (₹) | 1.86 | 2.1 | 2.3 |
| Opertaing margin (%) | 10.14 | 12.54 | 10.11 |
| Net margin (%) | 6.19 | 8.01 | 6.76 |
Financials
Revenues from jewellery has grown at an annualised 32 per cent over the last 5 years, whereas the watch division has witnessed 14 per cent annualised growth over the same period. The jewellery segment accounts for 80 per cent revenues in FY13 compared to 43 per cent ten years ago. Margins for the jewellery division have consistently risen over the decade from 4 per cent in FY03 to 5.34 per cent in FY08 to 10 per cent in FY13. Titan's return on net-worth has remained high at 42 per cent averaging over the last 5 years.
Financials
5Y Trend
TTM
Mar-2013
Mar-2012
Mar-2011
Mar-2010
Market Cap (₹Cr)
37.02%*
22674
22772
20295
16916
8172
Total Return (%)
37.02%*
-
12
20
107
136
Dividend Yield (%)
0.87%#
0.8
0.8
0.8
0.7
0.8
Financials
Revenue (Cr)
27.56%*
10123
10123
8848
6533
4677
Net Profit (Cr)
39.64%*
725
725
601
433
251
EPS
37.5%*
8.2
8.2
6.8
4.9
2.8
Netwoth
34.6%*
-
1970
1461
1036
732
Book Value
34.6%*
-
22
16
12
8
Equity
-
-
89
89
44
44
Total Debt
-50.85%*
-
6
11
68
73
Debt / Equity(x)
-
-
0
0.01
0.07
0.1
Profitability
RoC
56.19%#
-
61.3
68.7
66.8
45.5
RoA
42.22%#
-
42.3
48.2
49
39
Operating Margin (%)
9.62%#
10
10.9
10.4
10.2
8.7
Net Margin (%)
6%#
7.1
7.1
6.7
6.6
5.4
Valuation
Price / Earnings
31.57#
31.3
31.4
33.7
39.1
32.5
Price / Book Value
11.83#
11.5
11.6
13.9
16.3
11.2
Data as on 16-Apr-14 *CAGR FY08-13 #Average FY09-13 TTM: Trailing 12-Month
Valuations
At current price of ₹255 the stock is trading at price to earnings multiple of 31.5 which is 17 per cent discount to its 5 year median of 38. Moreover, price to book of 11.6 is 20 per cent discount to 5 year average of 14.5. Given the overall market level Titan at current valuation is an attractive buy and safe bet for a long term.