National Buildings Construction Corporation (NBCC) operates in real estate-residential and commercial space and diversified areas that include civil construction for sectors such as power, environment, health care, transportation, institutions, roads, border fencing, mass housing and office complexes, among others.
The company went public and was listed in April 2012. The Project Management Consultancy (PMC) division of the business accounts for more than 90 per cent of the total turnover and is also accredited ISO 9001:2008 certification.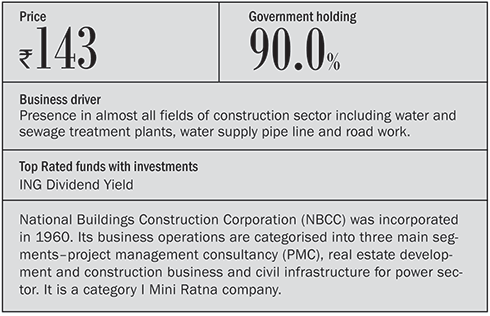 Strengths
NBCC is categorised a Public Works Organisation wherein the government bodies can award the works on nomination basis to NBCC. This is a huge advantage for the company, as it will benefit from the upcoming government projects that are in the pipeline. The company is focusing on the real estate segment because margin in it tends to be high. This will help it improve its overall turnover.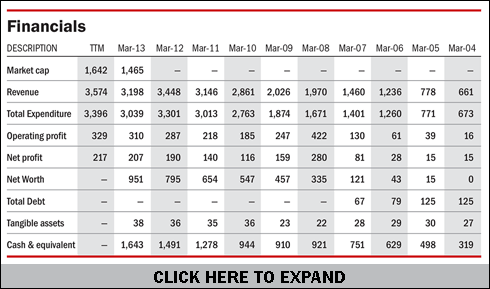 The biggest strength is its sound balance sheet, with zero debt and abundant cash. The company has a very good float as the working capital requirement is negative, which saves funds required amid high interest rates, something that its peers face. The inventory, debtors and loans and advances, amounting to ₹2,000 crore, are funded by interest free funds availed by advances from customers, long and current trade payables amounting ₹2,500 crore in FY13.
Unlike its peers, NBCC does not face dearth of projects, with the Government being the major client. It recently completed the 2 lakh sq. ft commercial space project in Okhla, Delhi, at a cost of ₹200 crore, which is currently valued at ₹500 crore. The company has indicated that it will be able to exploit its value by end of FY15. The company also has the distinction of having successfully executed projects in several countries across the world.
Further, the company will work on re-development of Kidwai Nagar colony in Delhi. NBCC will build around 4,700 residential houses and commercial properties covering an area of 10 lakh sq ft. The project is valued at around ₹4,500 crore and will be implemented on a fee basis. On similar lines, there are plans to redevelop old government colonies in other parts of Delhi.
Concerns
As the major business comes from contract and fee-based model, the net margin is quite low at 6.5 per cent in FY-13. However, this has improved over the past three years. Income from other non operating sources accounts for around 50 per cent of the operating profits. This income is from the interest earned from the deposits with banks and dividends earned on the liquid investments. Thus the margin from the core business comes further down after excluding other income, which is a matter of caution.
Moreover, the receivables at 100 days is very high, compared to 50-70 days by most other peers. To counter this high figure, the company has started to keep the payable days at 122 days to tide over the gap. With 62 days inventory, the lowest in the sector and cash conversion cycle at 40 days, the cash flow from operations is positive. But, all of this indicates at a very tight ship that the company is operating in.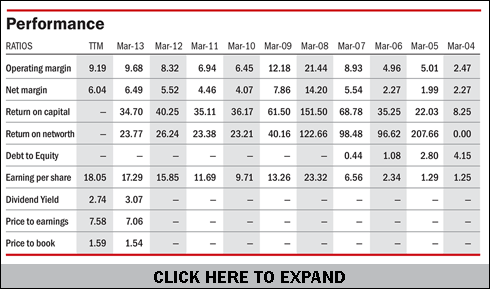 Valuation
The valuation of NBCC is quite interesting. The company's market cap is at ₹1,709 crore and has cash and equivalent of ₹1,663 crore. The stock was listed through IPO in April 2012 at a price of ₹101 and since then it has touched a high of ₹195 and is now priced at ₹142. It is trading at price to multiple of 7.9 which is near about its all time median since listing. As the company is debt free, the enterprise value comes to just ₹46 crore. With strong financials and deep value the stock is very strong buy for medium to long term tenure.