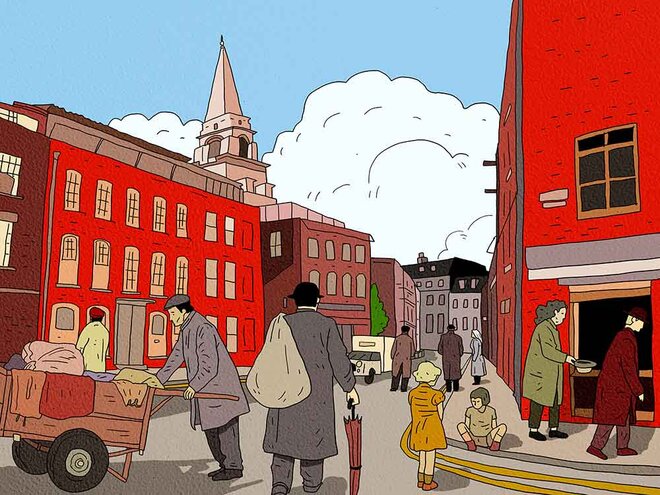 I had run out of money within a year of arriving in London just after the war and was told that I would have to wait at least six months before I would receive the next instalment of my scholarship money. In the meantime, I would have to beg, borrow or steal, that too in a foreign country, or move to a less salubrious part of London, and mark time.
I chose the second alternative and moved to a slum, a place called Walham Green, which was to Hampstead, where I had stayed until then, what Parel in Bombay was to Malabar Hill. I located the place on the map, packed my clothes and books in a suitcase and arrived in Walham Green which would be my home for the next six months.
I located a bedroom for which I would have to pay the princely sum of 15 shillings or Rs 10 a week, and share the house with an old widow whose only son had been killed in the war. She was as penniless as I was and we somehow managed to survive the winter, though it was tough going. I was also preparing for my final exams, not an easy thing on an empty or near-empty stomach. But as George Orwell once said to me, you manage to survive without food, and sometimes even a roof over your head, if that is what you have to do.
I had only about Rs 4 or 5 a day for food, but things were cheap in London immediately after the war, and I never really went hungry. I used to wander around Walham Green, visiting help-yourself eating shops, collecting scraps of bread and often boiled potatoes, and the girls manning the shops took pity on me and never let me starve. There were few Indians in Walham Green those days, or, even for that matter, in London as a whole, and I was quite a celebrity for a while!
George Orwell told me later that he had lived in slums in London as well as Paris, and found Paris much more suitable for slumming than London, as French food was that much better.
He would buy a baguette for a franc and some bowls of soup - his favourite was onion soup - and he could manage a whole day on them. I am not a soup guy - after all, I am an Indian and look forward to my curry and rice - and a meal without some rice or a chapatti or two was incomplete. But there were few Indian restaurants in London in those days and they were rather expensive for the likes of me, though the smell alone drove me crazy.
My landlord knew what I was going through and was very kind. I probably reminded her of her son who had been killed in Normandy. Every few days, she left something or the other outside my room, and once I discovered half-a-roasted chicken and potatoes which lasted a whole week. I was therefore never reduced to pinching pigeons from the streets and boiling them, as Ernest Hemingway was. But that was before the war, when there were plenty of pigeons in Paris gardens. They were all gone by the end of the war.
Once or twice, I tried to borrow some cash from bank, or rather bank manager, but bank managers in London are made of sterner stuff, and are as tough as nails when it comes to money. Once I overdrew a few pounds on my account - by mistake, really - and my bank manager followed me all the way home - my home, not his - to give me a stern lecture on such tricks and forced me to shell out the loot before he departed. But bank managers have hearts too and mine left a pound note on the bed before leaving.
One evening, I returned home to find an envelope on my table with a bank draft inside for nearly a hundred pounds sterling. It was snowing outside, and I had not had a proper meal for two days. I packed my bags, said goodbye to my landlady and ran to the nearest tube station and jumped into a train that took me to South Kensington and civilisation. I have not been to Walham Green since!
This column was first published in March 2014.